Council can't muster quorum
Lack of a quorum forced the Lansing City Council to postpone its regular meeting by a week Thursday.
Council members Billy Blackwell, Dee Hininger, Harland Russell and Robert Ulin did not attend Thursday's meeting, leaving the council one member short of the number needed to conduct business and necessitating the meeting postponement. Five members of the eight-member council represent a quorum.
Mayor Kenneth Bernard apologized to audience members who had come for the meeting. He did participate in a ceremony congratulating winners in the city's design-a-flag contest.
Council President Kenneth Ketchum, who has spent 20 years on the council, said he could remember only one or two times in his tenure when a meeting was called off because of the lack of a quorum.
"It's rare," he said. "Part of the problem comes when you have people whose work takes them out of town. Plus, if there's a family emergency that comes up, then I agree, you have to take care of that first."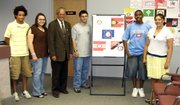 Ketchum was referring to Hininger, who reportedly was in Olathe tending to a family medical emergency.
Blackwell was at a ceremony in which he received a Master of Arts degree in computer resources and information management from Webster University. Russell was coaching his daughter's softball team. Ulin was returning from a conference at the Naval War College.
Unable to conduct votes on any matters, the council watched as City Clerk Karen Logan and Bernard handed out prizes in the city flag contest. Logan said more than 85 entries were received from children who either lived in Lansing or attended Lansing public schools.
"They were all wonderful designs," she said of the entries.
The top five entries, as determined by a panel of judges with the final selection made by the city council, received prizes Thursday.
Thomas Bender, who took first place, received $175; Grace Anderson finished in second place and received $75; P.J. Baker was the third-place winner and received $50; Theo Daniels placed fourth and was awarded a $25 savings bond as did fifth-place winner Brittney Atchison.
Council members also heard from Richard DeSilva, a property owner who is experiencing water detention problems on a piece of land he owns on Hickory Trail, off of 4-H Road. He explained that a drainage pipe that had been plugged by silt over the years recently was cleaned by the city and had added to runoff problems on his land. He asked the council to consider picking up labor and equipment costs for putting a new drainage pipe on his land in an area that would channel the water to a nearby detention pond. DeSilva said he would pay the cost of the pipe.
Bernard asked Public Works director John Young to determine a cost estimate for the labor and report back to the council.
The council will try again to muster a quorum of at least five members next Thursday for a 6:30 p.m. meeting.