The Lansing Outlaws softball team has held its own on the local scene so far this summer. Now the squad is ready to take its show on the road.
The Outlaws - owners of an 8-4-2 record and winners of three straight heading into Wednesday night's doubleheader in Basehor against the Lightning Strikers - will travel to Dodge City this weekend to compete in the Wild West Showdown Friday through Sunday at Legends Park.
"We try to get out of town once a year to go somewhere different," Outlaws coach Russ Stark said, explaining the trip. "Last year we went to Mustang, Oklahoma."
Stark said about 24 teams would compete at the Wild West Showdown. He said winners would receive travel expense money. First place is slated to receive $1,500. Second place will get $700. Third place will receive $300, and $150 will go to the fourth-place team.
Stark said travel-expense tournaments tend to draw more competitive fields, so he said his team should face plenty of tough competition.
"Going out there, there's usually some good teams out in western Kansas where they pull players from two or three different communities," he said. "It should be pretty tough."
The players are excited about the trip for a number of reasons. One is the challenge of facing new teams from other parts of the state. The other reason is that they get to go out of town.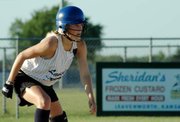 "It's going to be a lot of fun, and I think we should do pretty good," pitcher Jessica Kane said. "I remember when I used to play (for a different team), we went to Oklahoma City and Omaha, and it was always a lot of fun just to go out of town and stay in a hotel. It was always so cool."
The Outlaws also are excited about the tournament because they've played so well lately. After going 0-1-2 during a rain-shortened tournament in Blue Springs, Mo., two weeks ago, they swept a triple-header on June 15 during league play at Basehor Field of Dreams. During those games, the Outlaws played solid defense and put on an electrifying display of offense. They smashed 26 hits and scored 23 runs during the three victories. Jessica Hauver, Maggie Aus and Jessica Stark all had four hits during the three-game stint, and Dana Sanders and Kelly Fratzel had three apiece.
"They're pulling together pretty well," Russ Stark said. "The nice thing about it is when they play like that, they have a good time."