Army secretary speaks at graduation
The top civilian in the Army, Secretary Francis J. Harvey, paid homage Friday to the families of soldiers during his speech last week at the graduation program for Fort Leavenworth's Command and General Staff College.
In his speech to the 952 graduates of the program, Harvey thanked the families of soldiers, who he said bore the costs of war.
"We must never forget that they, too, sacrifice and serve the nation by providing the love and support that sustains our soldiers," he said.
The event was Friday on the parade field at the fort. About 2,000 people attended the event for the officers graduating from the prestigious school, whose alumni includes President Dwight D. Eisenhower and Gens. George S. Patton and George C. Marshall.
All but 304 of the graduates Friday were U.S. Army officers; 216 served in the Air Force, Navy, Marine Corps, Coast Guard, National Guard or Army Reserve, and 88 graduates were officers in foreign military services. The 10-month program trains mid-career officers for duty as commanders and principal staff officers with large military organizations.
Harvey described his vision of the skills and attributes needed to be effective leaders in the post 9-11 world. He spoke of making the Army into a more "expeditionary, joint, rapidly deployable, flexible and adaptive" force.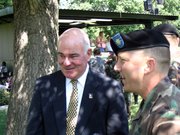 "We need leaders who are decisive, innovative, adaptive, culturally astute, effective communicators and dedicated to lifelong learning," Harvey said.
The secretary stayed after the roughly two-hour ceremony to answer questions from reporters. One of those questions was about how the Army will change its recruiting strategy to improve low recruiting numbers of the last several months.
Harvey outlined a several-pronged strategy, including a $1,000 "finder's fee" for soldiers who bring in new recruits; larger retention bonuses to keep soldiers in the Army; emphasizing the "Blue-to-Green" conversion program, which offers incentives for service members from the Air Force and Navy to switch to the Army; and the introduction of an Army home mortgage program that makes available $25,000 tax-free for soldiers after they make a four-year commitment and $50,000 for an eight-year commitment.
Another element in the new recruiting strategy is a grassroots speaking campaign, "Call to Duty," in which Army leaders speak in local communities.
"The idea is to remind America and remind our parents and the other influences on our young children of the nobility in serving this country," Harvey said. "Once in your career, you should give back something to this county. That's what I'm doing."
Harvey's previous careers before being sworn in as secretary of the Army last November were executive and management positions in the corporate sector, including at Westinghouse Corp., Electronic Systems Group, Government and Environmental Services Co. and Duratek, a radioactive- and hazardous-waste treatment company.
To the question of how officers at Friday's graduation were different from pre-9-11 officers, Harvey said, "The fact that they're here and still in the Army means that they're more than ever committed to serving this nation; it's an all-volunteer force."
The Combined Arms Center, Harvey said, "is a key institution in the Army for developing our leaders" and "fostering military cooperation with our coalition partners."
Lastly, Harvey addressed the recent Base Realignment and Closure recommendations, in which he said he was heavily involved.
"I don't think we could do it any better than what we did," Harvey said.
If the BRAC commission recommendations are approved, they "will help us be better able to fight and win this global war on terrorism," he said.
"Here in Kansas you've got to be very happy," Harvey said. "There's going to be an increase of military personnel of 7,000 in the state of Kansas," which would include the Pentagon's recommendation of 217 additional personnel at Fort Leavenworth.