Mayor shows he's at home on range
Council member Studnicka also displays his shooting skills
It's a good thing the public wasn't on hand to watch members of the Lansing city council practice shooting firearms, Saturday morning.
Because anyone who saw mayor Kenneth Bernard or city council member Don Studnicka handle a weapon would never want to disagree with them again.
Their eyes lit up like children on Christmas morning when officials at the Lansing Correctional Facility Firearms Training Facility showed them the weapons, which they would get to try out.
The available firearms included everything from pistols to automatic rifles.
Bernard and Studnicka sampled nearly every weapon available at the range, and consistently hit their targets.
They both said the experience brought them and other city officials back to their days in the military.
"We've always enjoyed shooting," Bernard said. "I just don't see why we have to wear ear protection. We never wore them while firing artillery in the army."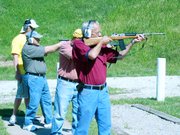 The only weapon that Bernard disliked was the full-automatic rifle. He said it didn't take the same skill to fire as the other firearms.
When Bernard was finished shooting, he said the city council would have to do it again. The situation was much different for city council member Andi Pawlowski, however.
She had never fired anything more powerful than a BB gun before Saturday, and her face cringed when she held a rifle for the first time.
At first she didn't want to shoot, but after some persuading she tried out a pistol and a rifle.
Though she only hit her target a few times, her instructor said she did very well for a first-time shooter.
Pawlowski agreed, but hinted her shooting days were over.
"It was fun, but I don't think I'll be looking for another place to do it anytime soon," she said. "I wanted to do it just to say that I did."