Council tours expanded wastewater plant
Lansing City Council members got up bright and early Saturday morning to take a tour of the city's $15.8 million investment: the expanded Wastewater Treatment Plant.
Expansion of the plant began a year ago, and the tour gave city officials the chance to see progress that has been made.
Mike Smith said he organized the tour because he was particularly proud of the plant. After all, funding it was his first job as city administrator.
"We're real proud of this place," Smith said. "It's going to serve us for a lot of years."
Council member Billy Blackwell agreed after going on the tour.
"It was worth getting out of bed early to see," Blackwell said.
The Saturday gathering of council members also included a tour of the 128 acres the city recently purchased to be its signature park.
The Wastewater Treatment Plant expansion is near completion, with only an operations building and landscaping still in the works. The expansion of the plant, which is now online, increases the amount of wastewater the city can process, from 1.3 million gallons of waste per day to 3.2 million gallons. At full capacity, it is thought the plant can serve a population of up to 25,000.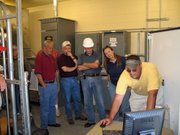 Impressive technology was featured in nearly every building. Several state-of-the-art basins are operational, and city officials got to see the state's second-largest power generator, which fuels the plant.
The generator produced a near-deafening noise when activated, and Mayor Kenneth Bernard said it was impressive.
The only downside was that monthly electricity bills were said to push $8,500.
Overall costs were a moot issue to city council members, though. Each of them said the plant was important to city needs, and would pay for itself in the long run.
"It's going to be able to serve the future growth of Lansing," said John Young, the city's Public Works director. "The plant will be able to handle any growth we could see in the next 25 years. Without it, we would basically already be at capacity."
Smith said not many people initially would appreciate the water treatment facility, but that's because few knew what goes on at the plant.
"People ask me how could I pay all that money for it, before they know how amazing it works," he said. "People think you flush and that's all. Once I explain what they're getting, no one complains."
City officials estimated that construction on the plant would be finished some time in September.
The city recently hired Jeffrey L. Bruce & Co. to develop a master plan for the park. That study should be ready for council members to consider this fall.