European trip a learning experience
LHS

students, teacher return from visit to France, Spain
Lansing High School Spanish teacher Marla Spellman has been to Europe six times, and although she arranges the trips to broaden her students' horizons, she said the trips were learning experiences for her, too.
"Every time I go, I learn a few new things," she said.
Case in point: On her most recent trip with LHS students, which concluded June 14, Spellman found out the "Mona Lisa" was the only painting Leonardo da Vinci ever finished.
Spellman and seven LHS students and recent graduates visited Spain and France. The trip, which began May 31, was open to students who had taken at least one year of a foreign language, she said.
Though she, too, benefits from the trips, Spellman said the purpose was for students to apply their foreign language skills.
"It's a good opportunity for the kids to actually practice what they've learned in the classroom," she said.
Spellman said she included Spain and France in every European trip because she speaks Spanish and French. This year, the trip was limited to those two countries because when it was planned the dollar was not faring well against the Euro, she said, but in past years, she had taken students to England, Germany, Switzerland, Portugal, Italy and Greece.
Spellman said she has arranged a trip every two years since 1991. Two years ago, she took students to Mexico, and she has taken one group to Puerto Rico.
In this year's group, six of her students had taken only one of the two languages, but one student had taken both Spanish and French, Spellman said.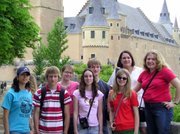 The Lansing posse made up a tour group with students and teachers from Texas and Tennessee. The group stopped in Madrid, Zaragoza and Barcelona in Spain and Nice, Paris and some countryside locales in France.
The students visited museums including the Prado and contemporary art museum in Madrid, the Salvador Dali museum in Figueres, Spain, and the Louvre in Paris. They also spent a day at the beach in Nice and visited historical sites such as the Olympic Stadium in Barcelona; a medieval walled city in Carcassonne, France; and, of course, the Eiffel Tower. At a stop in Toledo, Spain, the group learned about two types of art the city is famous for, sword-making and damascene, which is inlaying gold in steel, Spellman said. She said several students bought souvenir swords or letter openers there.
Though the tour was guided by a travel company, Spellman said the group had nights and some afternoons to choose their own destinations.
Alison Cain, who graduated in May, said her favorite stops were the museums. She plans to major in art history at the University of Kansas this fall.
Spellman said Cain's enthusiasm for the museums was noticeable.
"Alison was really excited about the museums," she said. "Some kids got museumed-out."
Spellman said she saw Cain, who is also an artist, sketching "Venus de Milo" at the Louvre. Cain said she brought her sketchbook because it would give her another way to remember what she had seen.
"When I travel, I carry it," Cain said. "It's just a different way to remember things that I've seen instead of just a photograph."
Spellman said this year's trip "was probably one of my best." The group only ran into a few near-problems, she said.
The first was at the beginning of the trip when Cain's debit card wouldn't work. Cain said she was afraid she wouldn't have money for the entire trip, but after calling her parents, they discovered that the card had not been activated.
At the end of the trip, Spellman discovered one student had set herself up to lose some of her souvenirs, she said. Spellman said she was asking the students if they were properly packed to return home when she discovered that one student had put her souvenirs from Toledo in her carryon bag. Spellman told the student to transfer them to her checked luggage so they wouldn't be confiscated.
Spellman's advice turned out to be fortuitous. She said a student in the Texas group they had been traveling with had her Toledo souvenirs taken by airport security.
In the end, Spellman said her students learned lessons in traveling, language and culture. She said saw the students trying to speak the language on several occasions.
"I think they found if they tried the Spanish, people would speak Spanish back to them, and the same with French," she said. "A lot of them tried."
Cain said it was often necessary for the students to practice their language skills when ordering food, asking questions or just speaking to locals.
"Sometimes it was stressful because it was real people," she said.
She also said there were some obvious culture differences in Europe.
"It's a whole different world," Cain said.
For example, Cain said she was surprised to learn that she had to pay to use some restrooms.
Cain said the experience would stick with her and may inspire her to study abroad in college.
"If I could go back to one place, I would go back to Barcelona because they have a visible contemporary art scene," Cain said.
"I definitely want to go back," she said. "Most people on the trip feel the same."