Newly promoted lieutenant manages to balance job, family, llamas
You'd think that being responsible for the Lansing Police Department's detective, animal control, emergency operations and evidence room divisions would leave barely enough energy and time for a man to spend with his wife and son.
But Lt. Anthony Waterman devotes his free time not only to his "wonderful" wife, Deb, and 13-year-old son, Garrett; with them he also breeds and sells goats and llamas.
The Watermans live on an eight-acre ranch just outside Easton, to where they moved when Deb, a country girl from Easton, "decided she couldn't take city life" in Lansing any longer, the lieutenant said.
Waterman grew up in the Kalamazoo/Portage area in Michigan, where he graduated from high school in 1985.
Waterman joined the Lansing Police Department in 1990, when he came here with his first wife, who was stationed at Fort Leavenworth. He had served as a military policeman in Giessen, Germany, before that. Waterman earned his bachelor's in Organizational Management and Leadership from Friends University in 2002, and his master's in Management from Friends in 2004.
Waterman said his college education, as well as his experience in the department, has helped him to more effectively manage people.
One source of Waterman's on-the-job education was Mike Smith, former Lansing police chief and current city administrator for Lansing. From Smith, Waterman said he learned, "Treat people with respect and they're going to treat you the same way."
Waterman said he looked at Smith, who brought him on board at the department, "as an older brother. It's kind of like family here anyway; that's how it should be. We have a very close working relationship."
Waterman said that one of the first things he did upon being promoted from sergeant in April was his reorganization of the detective division to suit his style. The new organization, he said, made detectives more accountable.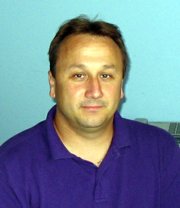 "It's worked," Waterman said. "I didn't know how productive they were before I gave them a little more accountability."
Besides managing people, Waterman's responsibility for the animal control division requires him to have some understanding of animals, including the local cattle that get loose from their fenced areas.
Since he had had little experience with farm animals growing up in an urban area as the son of a GTE engineer, Waterman has had to learn firsthand about them as an adult. In addition to their nine goats and four llamas on the ranch, the Watermans have 30 chickens, nine goats, four llamas, three horses, three cats and one dog.
The lieutenant said that having his own animals "has helped me to understand them a little better."
Though Waterman said he was not very familiar with cattle, he figured the bull that got loose April 18 and wandered Main Street and DeSoto Road that morning "was looking for female cows that were on Desoto road. The way the wind was blowing, he probably smelled them."
Waterman said that had been his most interesting animal control case.
Waterman said he also gets calls about snakes and repeated ones for a peacock that kept getting loose on DeSoto.
"We're not equipped to catch them," Waterman said of the birds, "because we're not sure how to catch them."
As far as human stories go, Waterman said, "the one that is always going to stand out in my mind is the Wood Oil robbery," which occurred in December. Waterman, who was a sergeant at the time, said it was the first robbery in his 15 years on the force.
"First of all I was the one working; it was in my district," Waterman said. "It was a great thing that we caught him in less than 48 hours. I took it really personal."
Waterman said the great thing about the Lansing Police Department was that the officers "really take their jobs seriously."
One of the department's bigger programs now, Waterman said, was its coordination with the Kansas division of Alcoholic Beverage Control in enforcing age restrictions on tobacco purchases. The agency will be conducting compliance checks at local stores, and Waterman said he was confident local merchants could beat last year's 62% statewide average for compliance.
"Most of our stores here are very good about it; they're always checking for IDs."
Waterman's next big task is security for the city's Fourth of July events.
"We 're supplementing with reserve officers which allows four to be off. We used to have all off them work the event, Waterman said. "Under Chief (Steve) Wayman, it's a little more relaxed, which has been great. The entire department is extremely happy; Steve's a good leader."