County 4-H'ers hone skills in Spring Fare competition
The Leavenworth County Fair is more than a month away, but that doesn't mean 4-H members are already competing in project skills.
Members from throughout Leavenworth County participated last weekend in Spring Fare, which provides 4-H members an opportunity to master project skills.
"Judges evaluate the members' project work, which allows them to measure their knowledge against a standard," said Beth Hecht, 4-H Youth Development Extension Agent. "4-H teaches life skills by building on things that interest the youth. They may learn more about nutrition or how to produce a product someone is willing to buy."
The results of the 4-H Spring Fare, conducted June 18, were:
Garden
Junior champion garden exhibitor:
Northeast Leavenworth 4-H Club; Junior reserve champion garden exhibitor: Kelsi and Matt Briggs, Happy Helpers.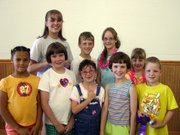 Cabbage
Purple, Northeast Leavenworth 4-H Club
Green Onions
Purple, Northeast Leavenworth 4-H Club; Blue, Madison Eddy, Northeast Leavenworth 4-H; Red, Northeast Leavenworth 4-H Club
Peas in shell
Blue, Justin Van-Way, Northeast Leavenworth 4-H; Blue, Northeast Leavenworth 4-H
New Potatoes
Blue, Northeast Leavenworth 4-H; Blue, Sarah Rodgers, Northeast Leavenworth 4-H; Red, Northeast Leavenworth 4-H; Red, Audrey Fryman, Northeast Leavenworth 4-H; Red, Abigail Eddy, Northeast Leavenworth 4-H
Radishes
Blue, Northeast Leavenworth 4-H
Fresh-cut Herbs
Purple, Kelsi and Matt Briggs, Happy Helpers
Flowers
Junior champion flower exhibitor: Anna Buddish, Friendship Valley; Junior reserve champion flower exhibitor: Megan Briggs, Happy Helpers
Senior champion flower exhibitor: Tiffany Chappell, Mayginnis Hustlers; Senior reserve champion flower exhibitor: Audrey Knapp, Glenwood
Marigold
Purple, Audrey Knapp, Glenwood; blue, Kelsi Briggs, Happy Helpers, Matt Briggs, Happy Helpers, Megan Briggs, Happy Helpers, Abe Buddish, Friendship Valley, Anna Buddish, Friendship Valley; red, Karisa Garber, Boling
Daisy
Purple, Emily Knapp, Glenwood
Bachelor Button
Red, Aaron McIntyre, Reno Bobwhites
Day Lily
Purple, Audrey Knapp, Glenwood; blue, Michaela Sessions, Mayginnis Hustlers, Aaron McIntyre, Reno Bobwhites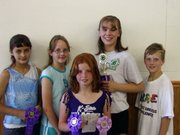 Pansies
Purple, Megan Briggs, Happy Helpers; blue, Audrey Knapp, Glenwood
Petunia, Double
Red, Karisa Garber, Boling
Petunia, Single
Purple, Emily Knapp, Glenwood; blue, Matt Briggs, Happy Helpers; red, Aaron McIntyre, Reno Bobwhites; white, Karisa Garber, Boling
Rose (Hybrid Tea)
Red, Michaela Sessions, Mayginnis Hustlers
Rose Variety
Blue, Abe Buddish, Friendship Valley, Anna Buddish, Friendship Valley; red, Aaron McIntyre, Reno Bobwhites
Miniature Rose
Red, Aaron McIntyre, Reno Bobwhites
Snapdragons
Purple, Kelsi Briggs, Happy Helpers, Tiffany Chappell, Mayginnis Hustlers; blue, Matt Briggs, Happy Helpers, Megan Briggs, Happy Helpers
Any other annual
Purple, Anna Buddish, Friendship Valley; blue, Matt Briggs, Happy Helpers, Anna Buddish, Friendship Valley; Blue, Karisa Garber, Boling;
Red, Megan Briggs, Happy Helpers
Any other Perennial
Blue, Abe Buddish, Friendship Valley, Anna Buddish, Friendship Valley, Tiffany Chappell, Mayginnis Hustlers, Karisa Garber, Boling; red, Tiffany Chappell, Mayginnis Hustlers, Michaela Sessions, Mayginnis Hustlers
Any other bulb
Purple, Arthur Rollins, Happy Helpers
Cactus
Purple, Eleanor Heimbaugh, Glenwood
Flowering House Plant
Blue, Tiffany Chappell, Mayginnis Hustlers, Michaela Sessions, Mayginnis Hustlers
Foliage House Plant
Red, Tyler Grammer, Reno Bobwhites; white, Tyler Grammer, Reno Bobwhites
Succulents
Purple, Arthur Rollins, Happy Helpers; blue, Ryan Grammer, Reno Bobwhites; red, Ryan Grammer, Reno Bobwhites
Room Arrangement over 6 feet
Red, Karisa Garber, Boling
Mini 4-H
Mable Mestagh, Happy Helpers
Mini flower arrangement under 3 inches
Blue, Karisa Garber, Boling
Mini flower arrangement under 4 inches
Blue, Abe Buddish, Friendship Valley
Mini flower arrangement under 5 inches
Purple, Anna Buddish, Friendship Valley; red, Karisa Garber, Boling
Mini Flower Arrangement under 6 inches
White, Karisa Garber, Boling
Food/Nutrition
Junior food/nutrition champion: Katie Campbell, Livewires; junior food/nutrition reserve champion: Kelsi Briggs, Happy Helpers
Senior food/nutrition champion: Audrey Knapp, Glenwood
Perishable food - junior
Purple, Kelsi Briggs, Happy Helpers, Megan Briggs, Happy Helpers, Katie Campbell, Livewires; blue, Matt Briggs, Happy Helpers, Katie Campbell, Livewires, Karisa Garber, Boling; red, Destiny Mestagh, Happy Helpers, Emily Knapp, Glenwood, Kenny Campbell, Livewires, Justyn Leslie, Northeast Leavenworth, Karisa Garber, Boling
Perishable food - senior
Purple, Audrey Knapp, Glenwood; blue, Meghan Sullivan, Boling
Table setting
Champion table setting, Audrey Knapp, Glenwood; reserve champion, Matt Briggs, Happy Helpers
Table settings - Junior
Purple, Matt Briggs, Happy Helpers; blue, Kelsi and Megan Briggs, Happy Helpers, Destiny Mestagh, Happy Helpers
Table settings - Senior
Purple, Meghan Sullivan, Boling, Audrey Knapp, Glenwood
Skill arts
Junior skill arts Champion - Karisa Garber, Boling
Senior skill arts champion, Grace Anderson, Friendship Valley; Senior skills arts reserve champion, Hannah Davidson, Reno Bobwhites
skill arts - Junior
Blue, Karisa Garber, Boling; red, Karisa Garber, Boling
Skill arts - senior
Purple, Grace Anderson, Friendship Valley, Hannah Davidson, Reno Bobwhites; blue, Hannah Davidson, Reno Bobwhites, Eleanor Heimbaugh, Glenwood; red, Hannah Davidson, Reno Bobwhites, Eleanor Heimbaugh, Glenwood
4-H promotion
4-H Club Promotional Posters
First, Northeast Leavenworth 4-H Club; second, Friendship Valley 4-H Club