Higher fees under study
Council to hear case for higher sewer rates, connection fees
Lansing — The cost of connecting to the city's sanitary sewers and monthly charge for using those sewers would increase under proposals that will be discussed at a City Council study session.
Council members also will be asked to consider establishing a monthly stormwater utility fee.
The session will get under way at 7 p.m. today, June 23. It will begin at the conclusion of a City Council meeting postponed last week when the council couldn't muster a quorum. The postponed meeting begins at 6:30 p.m. Both the study session and the postponed meeting will be in the council chambers at City Hall, 800 First Terrace.
The city currently charges $900 for a new residential connection to the city's sanitary sewer system, but a telephone survey showed the average price to hook a new home into area cities' sewer systems was $1,584. The survey showed a high cost of $3,000 in Leavenworth to a low of $600 in De Soto.
With those figures in hand, wastewater utility director Tony Zell is recommending Lansing increase its charge to $1,500, a 67 percent increase.
In a memo to City Administrator Mike Smith, Zell said his staff also could establish criteria for other hookups by other classes of sewer users, including commercial and industrial clients, mobile homes and multifamily units at the council's direction.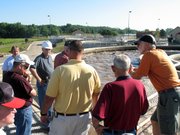 At the study session, council members also will be presented with a proposal to increase sanitary sewer charges for residential users by 6.25 percent, from $16 to $17 a month.
"With the new wastewater plant nearing completion, we are going to see higher operating expenses along with the debt service payment over $1,000,000," City Clerk Karen Logan said in a memo to Smith.
The city is completing a $15.8 million expansion to its Wastewater Treatment Plant, which increased its sewage treatment capacity , from 1.3 million gallons of waste per day to 3.3 million gallons.
The fee increase would generate an additional $27,000 a year, Logan estimates.
Council members also will be asked to consider establishing a stormwater utility fee.
"As you will recall from recent Council Meetings and CIP study session, there are many requests for public drainage improvements, both in locations that have never been improved, and in locations hat have deteriorating or sub-standard improvements," Public Works director John Young wrote in a memo to Smith.
Young said he would present stormwater fee schedules from other communities at tonight's study session.
The study session also will include discussion of inspection fees for developer-financed public improvement projects, revenue sources for the city, makeup of city trade board and the monthly stipend for the mayor and City Council members.
The council meeting will include approval of minutes from the council's June 2 meeting, consideration of a six-foot privacy fence at 629 Ida St., and the awarding of bids for community development block grant rehabilitation projects.