Training for ratings
Firefighters work to ensure better insurance rates
Fire departments in Leavenworth County, and some from neighboring communities, are doing their best to ensure area residents are receiving top-notch fire service, and possibly, reduced insurance costs.
On Thursday, June 16, firefighters from 10 area departments, most of which were from Leavenworth County, participated in tanker truck drills in the parking lot at Basehor-Linwood High School. The fire departments trained on shuttling water during time-tested drills before a representative from ISO Commercial Risk Services, an agency that assigns the fire class rating for the area.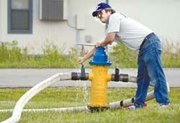 Chuck Magaha, Leavenworth County emergency management director and a volunteer with the Fairmount Township Fire Department, said firefighters' goal on Thursday was to lower the fire class rating to an eight for all rural Leavenworth County residents.
"The bottom line goal is ... regardless of where you live, you'll have rating no worse than an eight," Magaha said.
It's an initiative that no other county in the state, except Leavenworth County, has undertaken, he added.
"There's not another county in the state that has taken the initiative of trying to get a full ISO rating of an eight. In a rural setting, an eight is fantastic."
If the fire departments are successful, it could result in savings for homeowners in Leavenworth County on their fire insurance.
Every fire department in the county, except those from Easton and Fort Leavenworth, participated Thursday night. The Bonner Springs Fire Department, which is tied into a mutual aid agreement with Leavenworth County, also took part in the drills.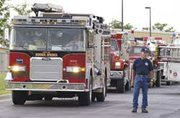 All drills Thursday had to be performed in the allotted time. Most of the fire departments successfully completed the tests, but Magaha said, "a few departments need to work on their equipment."
They will have a second chance in coming weeks. In mid-August, further tests will take place on pumping water and laying hose.