Reds romp against Geiger
17 hits lead to 15 runs in first win of season
Michael Smith hinted last week that the Lansing Reds Class A American Legion baseball team was on the verge of making a big breakthrough.
That breakthrough came Friday night - and it happened in a major way.
The Reds erupted for 17 hits in a 15-5 run-rule victory against Geiger Ready-Mix in four innings at Lansing High School.
They later dropped a 16-3 decision in game two.
All 10 Reds who played recorded at least one hit in the game-one victory. Elias Moya led the way with a three-for-three effort. Tyler Wilson, Johnny Stratton, Kris Hernandez, Matt McMillin and Tyler McNeil all had two hits in the win.
"When you haven't been hitting all year and then automatically everything goes right, the guys get really pumped," Moya said. "It's a really great feeling."
The Reds (1-7) entered Friday night's games having lost their first six games of the year. During that stretch they scored just six runs total. In the first inning against Geiger they plated seven runs. Beginning with Wilson's leadoff single, Lansing opened the game with five straight hits and nine total in the first inning. Stratton, Hernandez, McMillin and Logan Ryan followed Wilson with consecutive hits. Chase Horseman, Moya and McNeil added hits as well. In fact, the Reds' offense was clicking so much that Wilson had his second hit of the game before the first inning was over.
"When you get off to a good start like that you get pretty confident with yourself," Moya said, explaining he and his teammates' steady success at the plate.
Geiger attempted to rally as it plated two runs in the top of the second, but the Reds responded with five more runs in the bottom of the inning and pressed their lead to double-digits at 12-2. Doubles by Stratton and John Sebes in the third led to three more runs. Geiger scored three times in the top of the fourth but was unable to avoid being spread.
"Everybody got a hit. Everybody contributed. It was the first time that everybody really had fun," Reds manager Michael Smith said. "This was really great. We made good solid defensive plays. The bats came around. I don't know how many strikeouts we had, but it wasn't too many. They were really putting the bat on the ball."
Photo Gallery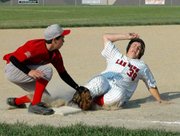 Reds romp against Geiger
The Lansing Reds Class A American Legion baseball team picked up its first victory of the summer Friday night when it beat Geiger Ready-Mix 15-5 at LHS. Here are scenes from the game.
McNeil went the distance on the mound for Lansing in game one and was plenty effective as he allowed just six hits.
"He did really well," Smith said. "That's the first time he's pitched for us. He threw some in practice the other day and I wasn't there, but when I talked to my son (coach Phillip Smith) today he said 'You should start Tyler.' He did really well. He had good control of his pitches and he threw strikes. That's what you need."
Perhaps the Reds were a bit overconfident after posting such an easy victory in game one because they had a steep letdown in game two. They mustered just three hits in the nightcap - singles by McMillin and Moya and a double by Dylan Delich. The Reds actually led 2-0 early in the game but Geiger scored nine runs in the bottom of the first and never looked back.
The Reds next play at 6 p.m. Sunday at Leavenworth Sportsfield against the Leavenworth Knights. The Reds' players said they are looking forward to the opportunity to earn their second victory of the season.
"Playing a bunch of 18-year-olds is something that's really hard to deal with sometimes," Moya said, "but we have a pretty positive outlook now that we stomped somebody. It's always good to get that first win under your belt."