Auto tour makes pit stop in city
Photo Gallery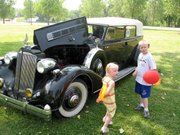 Chrome Glidden Tour
Fifty-four cars dating to the 1930s rolled into Lansing on June 23 as part of the Veteran Car Club of America's 2005 Chrome Glidden tour.
David Wigglesworth and his sister, Bernice Lindley, found themselves this past week in Lansing, just 30 miles from their homes in Johnson County.
But the car in which they made the journey - a 1936 Packard convertible - was from a bygone era that seemed worlds away.
Wigglesworth and Lindley were participating in the Veteran Motor Car Club of America's 2005 Chrome Glidden Tour. Their Packard was one of 54 cars on the tour, which made a pit stop Thursday at the Lansing Historical Museum.
"It's been coast to coast, in Canada, up Pike's Peak several times. It's been to a lot of tours all across the United States," Wigglesworth said.
Raymond Dietrich, a renowned designer of the classic automobile era, designed this particular Packard. The car, an eight-cylinder, three-speed convertible, has been in the family since 1982, when Wigglesworth and Lindley's parents first purchased it. Lindley and her husband now own the car.
Wigglesworth described his favorite feature of the car:
"When you're sitting behind the steering wheel, driving and looking over the hood, it seems about a mile long to the that bird," he said, pointing to the Packard's hood ornament.
The Chrome Glidden tour encompasses cars built from 1935 through 1980. Among the cars making their way to Lansing were classic Ford Mustangs, a Chevy Camaro, a 1940 Cadillac and 1958 Mercury Montclair.
About 30 paces away from the '36 Packard, Harold Naber of Colorado Springs, Colo., talked about his 1968 Mercury Cougar.
"I bought it in pieces," Naber said, "and completely rebuilt it."
Naber, who lived in Wichita "for several years until we found Colorado is cooler," said the Chrome Glidden tour was teaching him a lot about the Sunflower State. The tour began with an opening reception June 19 in Topeka and included stops in Lecompton, the Dole Institute of Politics in Lawrence, a private automobile museum in Shawnee Mission, and historical sites in Fort Riley and Junction City.
Here, Warden David McKune treated the group to a tour of the Lansing Correctional Facility. Afterward, Mayor Kenneth Bernard played host at a reception at the museum.
"It's been a very educational tour," Naber said.
Kansas State Rep. Bob Bethell, R-Alden, said he started organizing the tour two years ago. Bethell owns a robin's-egg-blue 1964 Falcon Futura hardtop and is the national treasurer of VMCCA. He said people from all over the country were participating in this event.
"I like to show off our state, and I like to have people spend their money here," he said.
Bethell said the tour group was stopping at many historical sites like the Lansing museum because many in the group were interested in history.
"Most of us are involved in history anyway because of our vehicles, so we do enjoy that," he said.
Bethell said he chose many of the stops on the tour based on his connections in the Legislature. He said he came to Lansing because he was friends with Reps. Kenny Wilk, R-Lansing, and Candy Ruff, D-Leavenworth.
Originally, Bethell said, he had planned for the legislators to visit the car show, but they have all been summoned to Topeka for a special session that started June 22. Because of the special session, Bethell's last day on the tour was June 21.