Youngsters get look at rural ways
Lansing students participate in 'Life on the Farm'
More than 50 young city slickers from Leavenworth County headed to the National Agricultural Center and Hall of Fame in Bonner Springs last week to learn about farming and ranching.
Children ages 6-14, including about 15 from Lansing, took part in a one-day "Life on the Farm" camp at the Ag Hall, where they experienced everything from a simulated livestock auction to a day in a 1900 farmhouse.
Two group leaders explained the purpose of the camp.
"It's for city kids," David Campbell, 14, Leavenworth, said.
"Because they don't know anything about farm stuff," said Taylor Kraft, 13, Lansing. He said that for young kids to learn about where food comes from and how much work is put into growing it might teach them not to throw food away or waste it.
Katherine Harzman, director of education at the Ag Hall, agreed with the boys' assessment.
"It's the experience and learning about what other people do on a daily basis," Harzman said. "Kids at this age are little sponges. Anything they learn at this age they'll take with them."
Harzman worked with Joan Payne, coordinator for the Leavenworth County Farm Bureau, to set up the day's events and demonstrations.
The children experienced a full day of lessons about life on the farm. David and Taylor's group first headed to Farm Town USA to learn about the role of blacksmiths, who made horseshoes and became the first mechanics when automobiles were introduced.
Photo Gallery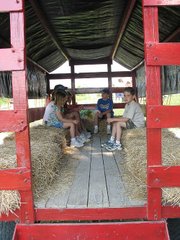 Life on the Farm day camp
Almost 60 children attended the eighth annual Life on the Farm day camp at the National Agricultural Center and Hall of Fame, held Thursday, June 23.
The group next spent time in the Island Creek School, a one-room schoolhouse where they learned about a typical school day in 1919 from a re-enactor called Miss McCluney.
Miss McCluney sorted the group by age into appropriately sized desks - younger students in the front and older ones in the back, with boys on the left and girls on the right. She taught the students to bow or curtsey when they greeted her. She rapped on desks with a stick and explained that boys were responsible for getting coal and water, while girls would have to light the kerosene lamps on gloomy days. She also set her students to work practicing their alphabet or doing sums.
As the youngsters exited the schoolhouse, they gave their opinion of Miss McCluney and oldtime schools.
"She was real strict," said Bonnie Monahan, 9, Tonganoxie.
"I can't sit up straight for that long," added Misty Adkins, 10, Basehor.
However, by lunch, a few campers had decided that the school was their favorite part of the day.
Maggie Hornick, 10, Lansing, said it was a new experience.
"I've never stood up before to answer the teacher," she said.
Campers visited several stations of ranching demonstrations, which included barrel racing, roping and bullfighting. Campers could try their hand at goat-tying on a dummy at one station. The instructor showed them how to manage the rope by putting one end in their back belt loop and the other end in their mouth.
The instructor admitted putting the rope in one's mouth after it had been in the dirt could be gross, but "you just cowboy or cowgirl up and get over it," she said.
Misty, who tried the goat tying, said it was harder than it looked.
"I also found out that the rope didn't taste too good," she said.
Between demonstrations, campers had an opportunity to tour a replica 1900 farmhouse and do early-1900s chores, such as grinding corn into cornmeal and doing laundry on a washboard. When the re-enactor showing campers how to use the washboard asked if they were glad they didn't have to do laundry that way, several piped up, "It's fun!"
"It's better than loading the dishwasher," one camper said.
The camp featured a new station this year, a small corn maze by Lawrence crop artist Stan Herd.
After lunch, campers participated in a simulation of a farm auction with a real auctioneer. The campers received fake money and bid cards to bid on stuffed animals and toys, coordinator Payne said. Another new event was a relay with small shopping carts, which Payne said was a hit.
"I think they could have played that for hours on end," she said.
Payne said she was pleased with the outcome of the camp. This year had one of the largest groups of campers in the eight years of the program, she said.