Middle-schoolers take the stage
School's annual play to be performed Thursday, Friday
Last year, Jeanette Valdez was the lead in the Lansing Middle School play. This year she decided to take on a new challenge as the student director.
The cast and crew of 50 will perform the play "Welcome to the Haunted House" at 6 p.m. today and Friday at LMS. Tickets for the production can be bought at the door for $1 for students and $2 for adults.
Since the beginning of the semester, LMS theater sponsor Barbara Haag has been working with the 33 actors and 17 crew members to perform what Haag said would be "a haunting good time."
"For a lot of kids it is a chance to shine in front of their peers," Haag said.
For Valdez, an eighth-grader, directing the play is a new challenge from what she is used to as an actress.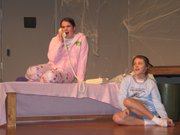 "A lot of people think I'm shy, but when you're acting you just become a different person," Valdez said.
Many of the crew members get to experience what it is like to be many different people. Because there are so many characters in "Welcome to the Haunted House," about half of the cast has more than one role, including five storytellers who serve as the main characters.
Valdez has been active with community and school plays since fifth grade. Experiences in those productions have given her the chance to share words of wisdom with the cast and crew, a majority of whom are involved with their first production.
"When you are acting you get the chance to bring your character to life," Valdez said. "I like to put myself into that character and say, 'I am that person.'"
Valdez is not the only veteran in this year's productions. Aaron and Austin Keeling are using their previous experience in plays to contribute to multiple roles in the production.
Valdez said she loved the opportunity to see acting from a different perspective as director but anticipated a return to acting next year by auditioning for the plays at Lansing High School.