A class united
Seniors revive
LHS

girls' basketball with positive attitude and team focus
From a purely statistical standpoint, Lansing High's four senior girls can be valued for their 16.6 points and about 20 rebounds they contribute each game.
It would be foolish for anyone to believe those statistics define their value to the Lions, however.
It's been a long time since an LHS girls' basketball team has recorded a winning season - it hasn't happened in the four years Melissa Casto, Emily Goodlin, Monique Richardson and Kendra Sickinger have played at Lansing - and the four seniors are the reason the Lions are sniffing the .500 mark again.
After years of struggling led to a turmoil-filled 2003-2004 season, the seniors decided they didn't want their final year to mirror previous seasons - and it hasn't. Instead of tension and strife, the Lions have been a family. It's been a drastic change from the past, and it's the primary reason the Lansing girls' basketball revival is in full swing.
"They're the ones who started the turnaround, and that's what we were looking for from them," first-year coach Keith Andrews said. "They'll be welcome back any time."
No more drama
Goodlin and Sickinger both are four-year varsity players at Lansing High, and both remember the good times and bad times from previous seasons.
There was their freshman season when the Lions struggled, but that year's seniors did their best to make the underclassmen feel welcome. They didn't win many games, but Sickinger said she looked forward to practice and felt encouraged to improve.
Then there was last year. Too many players were concerned with their own stats, Sickinger said, and drama was high. LHS lost eight games in a row. Basketball ceased to be fun.
"When I was a freshman, I was playing varsity, and those senior girls were wonderful to us," she said. "Me and Emily especially know what it feels like, so we really wanted to get the team together. Last year everything was just falling apart. We wanted to be a team this year."
Andrews took over as the Lions' head coach this fall and brought fresh air to the program, but he needed the seniors to embrace his teachings if the Lions were going to revive the struggling program.
At the beginning of the season, he charged his seniors with two primary responsibilities: leadership and cohesion.
"He said, 'I want us to go to state at least one of these next four years, and this is where it starts,'" Richardson said.
Since the first day of practice, the Lions have played as a unified group, and the result is a 10-10 record entering sub-state play. It's not as glitzy as the Lions had hoped for, but it represents undeniable progress that has only happened because of the "always positive" mentality that the seniors have fostered.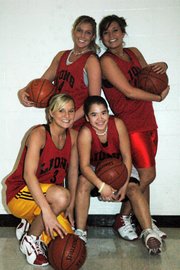 "We wanted to work together, and we wanted them to lead," Andrews said. "They've done a good job of doing that. They never questioned what grade you're in, whether you're (a senior) or not. They made it known that everybody was important. That's exactly what we wanted from them, and they've led the whole way."
Always positive
Unlike last year's varsity team, the junior varsity was a tight-knit group. Casto was a starter on that JV squad, so she experienced first-hand what it felt like to play on a united team. That's why she made a concerted effort to promote positivity to her teammates this season.
"Our No. 1 goal this year was to bring the team closer on and off the court and to play as a team," she said. "At school we're all friends, and on the court we're best friends. We try to work as a team and get things done. Sometimes it happens and sometimes it doesn't, but we always have fun."
The seniors recognized it was important to be positive not only for the sake of their sanity but because they were guiding such a young team. Three freshmen and two sophomores saw significant court time this season, and they needed both guidance and comfort throughout the season as they learned the ropes of the varsity level.
"Last year we didn't get nearly as much of that as we did this year," sophomore Riann Deere said. "It's totally different this year. It probably wouldn't have been different if they hadn't stepped up and changed it."
Goodlin said the Lions have reaped the benefits from making the underclassmen feel welcome. Each of them had something important to offer the team, she said, and throughout the season, many have realized their potential.
"Just to bring the team together and make sure that everybody felt really welcome and that everybody contributed was a really big thing with me," Goodlin said. "Even if you don't start, I think that you can come in and you can play good minutes, play really hard and contribute to the team a lot."
Know their roles
From day one, Andrews said the seniors were willing to fill whatever roles he asked of them. He made their assignments specific early on, and he said they had executed those roles as best as they could.
When it came to court time, three of the four seniors were called on to play major minutes and produce points. Goodlin was the Lions' third-leading scorer and top rebounder. Richardson's job was to run an up-tempo offense as the starting point guard. Sickinger was to be a defensive stopper who could drain an occasional three-pointer.
Casto found herself as the lone senior non-starter, but Andrews saw a deeper responsibility for her. In addition to being the first post option off the bench, Casto's job was to be the Lions' spirit captain. Many seniors might have rejected the limited playing time, but Andrews said Casto saw the importance of that role and she embraced it immediately.
"She's just a positive influence, and the kids really love her," Andrews said. "I'd love to have her another year because she works really hard and she's gotten better every game."
A bright future
Ask any of the Lions' underclassmen, and they'll tell you the girls' basketball program is on the right track. They'll also credit that progress in large part to the influence of the seniors.
"They've done everything anyone could ask for," Deere said. "They've been leaders and they've been best friends. We're like one big family, and they run it. They run the team and the family. It's just the best thing you could probably ever ask for."
In many ways, the seniors fostered the ideal growing experience for the underclassmen, Andrews said, offering that the positive atmosphere has helped numerous younger players find their place in the program.
There were plenty of ups and downs throughout the season, such as a four-game winning streak and a three-game losing skid, but through it all the Lions avoided the landslides of last season.
In many ways, despite being just a .500 club, it has been a dream season of sorts.
"The season has probably gone a lot better than I thought it would," Sickinger said. "I didn't know what to expect coming into it because we were lacking height and had a new coach, but I'm happy with the way everything has gone and how everyone has come together."
Added Casto, "It's been wonderful. It's nice that we all can be a team. This year has been the best. Yeah, we've lost some games and we've won some games, but in the end you have good memories no matter how we go."
A new class of seniors will take the helm next year, but Sickinger said she is confident she, Goodlin, Richardson and Casto will be leaving the program in good shape. After all, she said, this year's freshman class has found its niche, the JV team had a solid season, and the seventh- and eighth-grade teams at Lansing Middle School went a combined 23-1.
"There's a lot of good talent coming up," Sickinger said. "We want them to be comfortable coming into high school basketball. They know they're walking into a positive program where everything is going to be going good so they don't need to be scared."