Another parent finishes Iraq tour
It was all smiles Monday at Lansing Elementary School as Maj. Storm Reynolds, who returned Thursday from duty in Iraq, visited daughter Savanah's kindergarten class.
Savanah was called out of class to greet her father and ran into his arms. Dee Dee Reynolds, Savanah's mom, and Dianne Park, Savanah's grandmother and Storm's mother-in-law, also beamed as the family had its picture taken.
Savanah introduced her father to her classmates and surprised him with balloons and a rose. The class thanked him for serving the country.
Reynolds was stationed in Tikrit for the majority of his time in Iraq, which lasted from July 5, 2004, to Feb. 24. He served as an assistant director of engineering for the 1st Infantry Division. He said he was a primary planner for engineer-related mobility, which included coordination of bridge repair and protection, base camp management and clearance of improvised explosive devices.
As Savanah's class lined up to go outside to cut Reynolds' yellow ribbon off of a tree in the front of the building, Reynolds gave Savanah his hat and held her hand as he stood in line with her. Savanah's classmates shrieked with glee at the unusual sight of an adult standing in line.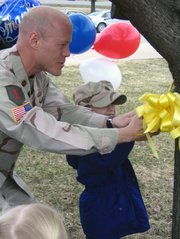 Reynolds also brought a smile to the face of another LES student, second-grader Alex Hamlet. Alex's father, Lt. Col. Michael Hamlet, left for training in August and went to Iraq around the first of the year, but Alex didn't know where he was or what he was doing.
Reynolds told Alex that he had seen his father in Tikrit for about three weeks before Reynolds returned home. Hamlet's unit replaced Reynolds'. Reynolds told Alex that his father was a G3 planner, which was an important job that required long hours. Alex grinned the whole time.
Dee Dee Reynolds said she knew how Alex felt. Dee Dee Reynolds said her husband had sent a Thanksgiving package home with a soldier from his unit who was on leave for the holiday. Dee Dee Reynolds said she couldn't help but hug the man.
"There's something about having contact with someone who has just seen your loved one," Dee Dee Reynolds said. "That's a moment I'll never forget."
Storm Reynolds said he had many plans for his time with his family, especially because it will be short - he is now stationed in Bamberg, Germany, and will report there March 24.
In the few weeks before he leaves, he said he would spend a lot of time with his children, Savanah, Bailey, a fourth-grader, and Forrest, a fifth-grader, doing "kinda normal stuff."
"I'm just going to get reacquainted with the kids," he said.
Reynolds said his plans included watching soccer games, going camping, helping the kids with homework and taking the family to Texas to visit relatives. He said he would also have his children read to him, which he said he missed while he was away.
Though Reynolds has to leave again, the separation won't be as long. He said he planned to have the family move to Germany with him as soon as school was over for the year. He said he would probably be stationed there for about two years.