Council zips through agenda
In a meeting that lasted fewer than 10 minutes, the Lansing City Council spent the most amount of time Thursday talking about its next meeting.
And after a brief flurry of calendar checking, the council decided it would meet the night of March 17 - even though it is St. Patrick's Day.
Council President Don Studnicka raised the subject and made a motion to either postpone the meeting to March 31 or to cancel it altogether.
Mayor Kenneth Bernard interjected, asking whether the meeting could be moved to the week after St. Patrick's Day or possibly to March 16.
City Administrator Mike Smith told council members that the Lansing School Board would request to meet jointly with the council again to discuss possible city uses of school buildings that would be affected by the April 5 bond election. A March 31 meeting might be too late for such a meeting to be meaningful prior to the bond election.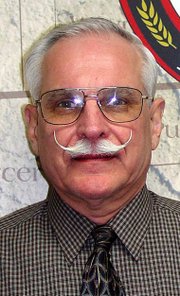 Council members nearly settled on three alternate dates for the meeting: either March 16, 18 or 24.
But Smith pointed out the Lansing Planning Commission meets in the council chambers on March 16.
Studnicka, who originated the idea of moving the March 17 meeting, said he couldn't meet on March 18 or March 24.
"It's a bad time of year. The problem is the 17th is St. Patrick's Day. I'd just leave it on the 17th, if it was up to me. The following week for Catholics is Holy Week; there's a lot of church services at the end of that week. Friday night (March 18) is not going to work either. I'm going to be out of town."
In the end, Studnicka withdrew his motion.
Council members Kenneth Ketchum and Dee Hininger were absent from Thursday's meeting.
During the lightning-speed meeting, the council:
¢ Approved 5-0, with Dave Trinkle Jr. abstaining, a condemnation resolution related to the East Eisenhower Road project. City Engineer John Young said the resolution clears the way for the city to enact a condemnation ordinance if the city cannot reach agreement with landowners over rights of way and easements necessary for the road-widening project. Trinkle owns property where the project will take place.
¢ Approved unanimously an increase in the car allowance for the city administrator to $500 a month. Smith had told council members his car allowance had been $400 a month since 2001. "As all of you know, the cost of fuel and vehicle repair has skyrockedted in the past couple of years," Smith wrote to the council in a memo.
¢ Tabled a request to replace a folding door at the Lansing Community Center. Bernard told council members he had authorized a temporary repair to the door's handle; the remainder of repairs will be addressed during the city's next budget cycle, he said.