LHS

grad's emotions mixed over receiving Purple Heart
Sgt. Timothy Gustafson feared the worst.
"As I realized what had happened : I started to call out for my men because I didn't see my men in the truck," the 27-year-old Gustafson said of the Jan. 24 bombing in Iraq. "I thought they were dead. : I started calling for them and praying for them at the same time."
But no way could Gustafson get up and check on them.
When the bomb exploded, shredding the front end of the Humvee that Gustafson was in, the bomb blew off part of his right foot.
Amazingly, the other men in the vehicle - two U.S. military soldiers and an Iraqi translator - weren't hurt.
"A few moments later they showed up at the side of my truck, helping get my door open," Gustafson said, noting the other men "walked away from the accident without a scratch."
High honors
On Feb. 18, in a ceremony at Walter Reed Army Medical Center in Washington, D.C., Gustafson received the Purple Heart. A 1996 Lansing High School graduate, Gustafson has served 6 1/2 years in the U.S. Army and 2 1/2 years in the National Guard. He also was given an American flag that had flown over the U.S. Capitol.
He takes the significance of the Purple Heart in stride, knowing what it takes to be on the receiving end.
"I think it's one that a man can't feel more proud to receive," Gustafson said, noting it's an award no one sets out to earn. "It's just one of those unique awards. I wish to God that I never received one, and yet at the same time I'm completely proud and extremely honored that I do have one. The ceremony made my heart swell up with pride for my nation, for the armed services and for my brothers in arms. It was just a wonderful thing."
Praying for strength
Once Gustafson knew the men who had been with him in the Humvee were safe, he realized his own pain and knew he'd been seriously wounded.
"I started praying," Gustafson said. "My legs, both my legs, hurt really bad and my right boot and foot had been jammed through the floor - through some of the openings made by shrapnel."
He was unable to pull his right leg out of the jagged tear blown through the floor of the vehicle.
Someone used a weapon to pry the metal edges apart.
The efforts freed Gustafson's leg, bending the weapon's barrel in the process.
Gustafson prayed.
"The very first thing I prayed for was I asked God that I would be able to keep both my legs from the knees up," Gustafson said.
And then he prayed for more.
"I asked God that I would have a Christ-like spirit and attitude throughout this whole ordeal because I knew there had been some men who got injuries like that and they really just had a sour attitude on life - mad at themselves, mad at their country, mad at the Army, and mad at so much and I knew I didn't want to be like that."
Brotherly advice
Back in Kansas, Timothy's brother, Sgt. David Gustafson, didn't know his older brother had been hurt.
But it was just the type of accident he had warned him about.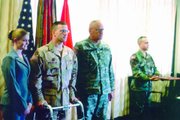 David, a 1998 Lansing High School graduate, served in Iraq from October 2003 until April 2004, spoke from experience.
Last March, David managed to make a quick trip home, just long enough for a visit with his wife, Christa, and their daughter, Channah, and to attend Timothy's wedding.
The brothers hadn't seen each other for almost two years.
They had precious little time to spend together. But David had a mission. He knew it was likely that Timothy would be deployed to Iraq.
He wanted his brother to be safe.
"I only could talk to him two hours the night before the wedding," David said. "I tried to get him a lot of intelligence. It sucks to say that one of the main things I had told him, in his case is what happened."
David told his brother not to do the same thing every day.
"Don't have any type of pattern," David said. "If you wake up in the morning and you brush your teeth outside at a certain time, don't do it every day - there is always someone watching you."
And he told him, never drive the same roads every day.
"They (Iraqis) figure out a pattern. : Those people will sit there at your front gates, kids, grown-ups, women, whatever, they will be on the perimeter, but they will be far enough out there that you don't think about it. : Those are the people that you got to watch out for."
David thinks that's what happened to his brother's crew.
"They (the Iraqis) figured out what their routine was
: and used it against them."
Neither man is a stranger to dangerous situations. Timothy was deployed to Bosnia in 1997, and to Kosovo in 2000, at the same time David was also serving in Kosovo.
Deadly intent
The bomb was meant to be a killer.
"They (the bomb squad) said that there was between 150 to 200 pounds of explosives that went off," Timothy said. "It was an anti-tank mine with two artillery shells tacked underneath it."
Though later through surgery Timothy's right leg was amputated below the knee, he knows he's lucky.
"With that much force, it should have killed everybody in the vehicle," Timothy said.
There's a reason the four men in the Humvee survived, said Timothy, who like his brother David, is a member of the Navigators Military Ministry.
Navigators help others apply scriptural truths to their lives, pass on what they're learning and help these believers reach others.
"I can only attribute that to God," Timothy said. "Every morning before my guys rolled out to our mission, we would read Psalm 91 from the Bible. A group of us, 15 or so would get together at the front of our vehicles after we did our mission statement. The last thing would be the reading of Psalm 91 and a quick prayer and then we'd mount up in our vehicles and take off.
"I think reading the Scripture, giving them hope and faith and placing our faith in God - I think that's what saved those two men's lives."
Timothy, who was interviewed Monday by phone from his hospital bed in Washington, pauses before adding,
"I'm very confident that's the reason the only thing that happened to me was losing my lower right leg."
At Walter Reed, he's seen worse fates.
"If you were to be here at Walter Reed and walk around, you'd see many, many other men that are far, far worse off, that have lost both legs, or one of their legs and an arm," Timothy said. "There's even a few I've seen here that have both legs and both arms blown off. They've got a long, long road to go - the Army has some amazing things they can do for those men."
Staying in touch
During his month and a half in Iraq, Timothy stayed connected with family in the states, particularly with his wife, Janice, and his mother, Shirley Gustafson, who lives west of Lansing.
"When I went to bed at night, I'd set the computer by the bed," Shirley said, noting they'd communicate by instant messaging each other, as well as through e-mail and phone calls.
When she turned out her light, she'd make sure she was logged on to instant messaging.
"When he (Timothy) would log in, he'd ring the doorbell," Shirley said of the computer's chime that sounds when friends gather online.
"We'd chat back and forth, instant chatting, and play checkers, talk for a couple of hours," Shirley said, adding that when he could, David would come online and join them as well.
It jolted Shirley when her sons joined the service.
Though concerned about her sons' safety when they were deployed, Shirley believed in what they were doing. And like her sons, she believed God would bring them back : though maybe not in the way she hoped.
"Tim would say, 'Mom you know I'm coming home one way or the other,'" Shirley said.
Timothy was still in Iraq when he called to tell his mother he'd been injured.
"Of course I lost it," Shirley said, recalling the terror she felt. "He said 'Mom, I'll be OK, I need to be put on a prayer chain - just pray that they don't have to take my leg off,' and of course they did. I just prayed for whatever was best, guide the doctors' hands."
But Timothy's lower leg, fractured in three places, was beyond repair.
Days later, at Walter Reed Army Medical Center, Timothy's right leg was amputated below the knee.
"With a below-knee amputation, you pretty much can have a normal life," said Shirley, who has visited her son twice in Washington. With her father, she attended Timothy's Purple Heart ceremony.
Timothy's wife, Janice, has been with him since 12 hours after he returned to the States.
It's her presence, Timothy said, that calms him.
"The first night I was here alone," Timothy said. "I had some pretty terrible nightmares, to the point where I actually moved my leg and : smacked my leg against the outside of the bed and caused a lot more pain."
But things got better.
The next night, his wife lay down beside him in his hospital bed, staying there until he was sound asleep.
"I really didn't have another nightmare," Timothy said.
On with the military
While David, who terminated out of the military in July, is content to be living and working in Leavenworth County again, Timothy has different plans.
He wants to return to college, earn a degree and join ROTC.
Yes, he wants to stay in the military and, if possible, obtain an active duty commission in the Army.
And that could possibly lead him back into war.
"It would depend on the field that they place me in," Timothy said. "It's very possible."
While in the hospital, he met U.S. Army Capt. David Rozelle, who also was injured in Iraq.
Rozelle's story is similar to Timothy's. On June 21, 2003, a Humvee he was riding in hit an anti-tank mine. Of the three soldiers in the vehicle, only Rozelle was injured. His right leg later was amputated.
Not only has Rozelle written a book, "Back in Action: An American Soldier's Story of Courage, Faith and Fortitude," he's also eager to return to Iraq.
Rozelle, awarded the Bronze Star, has been cleared to return to the same battlefield where he was injured. According to news reports, Rozelle has said he was the first amputee in recent military history to be returned to a dangerous command.
"That's just the nature of the American soldier," Timothy said, taking the thought in stride that, considering his desire to return to active duty, he too might one day again travel on the same road where he was injured in January.
"The average American soldier is extremely committed and extremely devoted to his work and to his country - it's a very unique thing."