Records fall as Lions roll at state meet
Wichita — Prior to departing the Class 5A state wrestling meet, Lansing High coach Ron Averill knew the meet would be special, if nothing else, for the fact that he was taking a school-record 12 competitors with him.
The meet turned out to be an emotional journey for many more reasons, however, as a program-best five Lions returned home from the Kansas Coliseum with state medals - including 140-pound state champion Kyle Grape.
"We've had an awesome weekend," Averill said, "and there's no better way to finish it than with a state champion. I'm so happy for Kyle. It's such a great payoff."
Averill said he was equally proud of his 11 other state qualifiers who also tangled with the state's best. Among that group were fourth-place finishers Kyle Buehler (125 pounds) and Ryan Civils (189) and sixth-place finishers Nick Flynn (112) and Sean Flynn (130). They helped guide the Lions to a sixth-place finish in the team standings - their best state finish in school history.
Buehler won his first two matches in dominating fashion before falling in the semifinals to state runner-up Keaton Baker of Blue Valley. Civils won his first two matches by pin before being pinned by eventual state champion Sean Pietrzyk of Salina South. Meanwhile, Sean Flynn's quarterfinal loss was to eventual state champion Josh Baldridge of Campus.
"I'm very pleased with our team placing and all that," Averill said. "But my heart aches for each one of those kids that has come up a little bit short of where they could have been."
Among those Averill ached for were juniors Stewart Jones (135), Dennis Kessler (152), Lance Fink (171) and Logan Ryan (215). All four fell one victory shy of winning state medals.
Averill may have ached the most for Jones, though. Jones, a two-time state qualifier, rallied from a 3-1 deficit in the consolation quarterfinals to take a 4-3 lead in the third period. Then, with seven seconds left in the match, the official whistled Jones for locking hands with his opponent. The call was controversial because both wrestlers were falling out of bounds and because the official was standing behind Jones and had an obstructed view. As a result of the infraction, the official awarded Jones' opponent a point, as well as an escape point as time expired.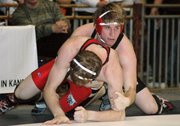 Adding to the controversy was the fact that as time expired the official pounded the mat with a second stall warning for Jones' opponent, Caleb Malone of Topeka Seaman. The second warning should've given Jones a point, but a point wasn't awarded, and Jones was left stunned.
Freshman Chance Thackston (103) ended his first state tournament with a 1-2 record, while sophomore Casey Caton (160) and junior Bobby Hamilton (119) both went 0-2 in difficult fields.
"I've been proud of this group all year long," Averill said. "They've been an awesome group to work with. Getting to this point hasn't been an easy road for any of them. They've put in a lot of hard work and dedication."
They also will be back next year. All 12 LHS state qualifiers are freshmen, sophomores or juniors. That has the Lions already thinking about the possibilities next year.
"As a team, we were outstanding," Buehler said. "We were so deep. We brought 12 down here, and we don't have any seniors on the team that are varsity, so everybody will be back. We got five medals, and there probably were a few more guys that could've been there or should've been there. Next year, I don't know if anybody will be able to hold us because we're loaded."