Veterans memorial plans hit high gear
If Mike Howell's dream is realized, Lansing will have a new veterans memorial by Veterans Day, 2005.
Howell, a Lansing resident and senior vice commander of Lansing Veterans of Foreign Wars, is working to raise funds for "Lansing's Memorial for Veterans." The tiered, tapered memorial will be in the shape of the Pentagon, topped by flags of the United States, state of Kansas and city of Lansing. On its five corners will be flags from the U.S. Army, Air Force, Navy, Marine Corps and Coast Guard.
"I'm excited about it," said Howell, who said he first thought of the idea for a Lansing memorial this past Fourth of July when he was at an out-of-town dedication of a veterans memorial.
"I just started drawing," he said, explaining how he proceeded from the conceptual stage.
He showed his initial concept drawing - it was on a napkin - to Mayor Kenneth Bernard.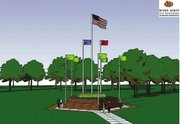 "I presented it one night at a sporting event to the mayor," Howell recalled. "A week later, he called and said, 'When can we break ground?'"
Since then, Howell has elicited the assistance of Brian Clark, a professional who last week put the finishing touches on an artist's rendition of the memorial.
Howell also has been promoting his idea throughout the community. Lansing VFW Post 12003 will be the main sponsor of the project; the city is being asked to identify a suitable location for the monument.
With the artist's rendition in hand, Howell is ready to begin fund-raising in earnest. His goal is to raise $50,000 to $100,000 initially for the monument.
In addition to seeking donations from corporations and businesses, Howell said he was looking for in-kind assistance.
"I'm hoping to get a whole lot of donated labor and so forth," he said.
He's also counting on individuals to donate. To create a revolving fund for the memorial, the plans call for the annual sale of brick pavers etched with the names of the donor or their designated veteran. The bricks will be placed on walkways leading to the monument.
And even without a final site identified for the memorial, Howell is aiming for a dedication on the afternoon of Nov. 11 - Veterans Day.
"There will be all kinds of veterans already here for the parade in Leavenworth; this way they can stick around for the afternoon dedication," he said.
City Council member Billy Blackwell earlier this month prodded the City Council to get moving on designating a site for the memorial.
Talking about Howell's plans for a Veterans Day dedication, Blackwell told the council, "He's on a fast-moving train to make that happen. I think we probably should to look at giving him some options pretty quick here in terms of locations. I know we've talked about a couple."
Among those possible locations are Towne Center, City Hall and near the Lansing Historical Museum/Leavenworth County Fire District No. 1 station.
Council member Harland Russell would like to see the monument in Towne Center.
"We've got such a nice park-like promenade there; it's almost where we could name it Veterans Park if we could fit it in there," Russell said.
For his part, Howell likes the fire department site.
Council members said they wanted to see the rendition before making their decision.