End of the road
Seniors done, but Lions loaded next season
There were no tears in Keith Andrews' eyes as the first-year Lansing High girls' basketball coach walked out of the Lions' locker room Wednesday night.
His squad's season had just ended with a 56-43 loss at Topeka Seaman, but a smile quickly shot across Andrews' face.
Sure, he was disappointed that the season was done, but the grin was for the pride he felt about his players who had given Lansing its best season in the past four years.
"That's the kids," Andrews said when asked who should b e given the credit for the program's turnaround. "I'm just more of an organization guy. I'm trying to get them all on the same page, all thinking about the same thing, trying to get them focused that way. They're the ones that have to go out and do it, and they did it."
Despite the season-ending loss to Seaman - which was a closely contested game other than the lopsided second quarter when LHS had a 7:30 scoring drought - Andrews said the Lions accomplished most of the goals he'd set out for the program in his first year.
"No. 1 is cohesion," Andrews said about what the Lions improved on the most. "They played as a team. Many parents said they played as a team all year long. No. 2 was the work ethic. Yeah, we're young and we're giddy and we bounced around and we high-fived, but we worked pretty hard at times too. They've got to carry that work ethic over to the summer."
Andrews said the greatest challenge the Lions will face next year will be finding a way to replace seniors Melissa Casto, Emily Goodlin, Monique Richardson and Kendra Sickinger, who he credited with infusing the program with the positive attitude necessary for progress to be made. Andrews said that role will fall on the shoulders of next year's senior class - current juniors Rachel Darrow, Amanda Radovich and Nichole Twitchell.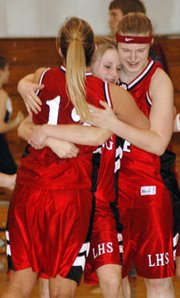 "These four seniors are probably the best leaders we've ever had," Darrow said. "Last year we had problems and everybody was ready for the season to be over, and this year we're upset because the season's over and we don't want it to be over. Next year we have a big gap to fill with being seniors next year."
Added Radovich: "We're going to miss them so much. It's going to be lots to live up to, but I think we're going to be up to the challenge and get it done."
Getting it done will mean two things: maintaining the sense of unity the Lions exhibited throughout this season, and upping the win total from the 10-11 mark they finished with this year.
Andrews said he is confident the returning Lions will maintain their positive outlook, but he said intense offseason preparation will be necessary for them to elevate the number in the wins column.
"The 10 wins, we could've easily had 13 or 14 if we hit a few free throws and we do some things down the road," Andrews said. "But we can learn from that. That's the most important thing for next year. If we want to sit back and think that 10 wins is satisfying, that's not. We've got to come out and get 13, 14, 15 and push from there. We've got the potential to do it. Now we've got to work pretty hard in the offseason. We'll take a couple weeks off and hopefully get some in the weight room, some out for track and soccer, and then get in the weight room this summer and shoot."
Darrow, Radovich and Twitchell accounted for 55 percent of Lansing's total offense this year, but the Lions have more to look forward to next year than the return of those three.
Five underclassmen with extensive varsity experience also will return. Most notably is backup point guard Katie Nietzke (4.8 points-per-game), who was Lansing's fifth-leading scorer as a freshman. Sophomores Elizabeth Cristiano and Riann Deere and freshmen Amanda Darrow and Morgan Chiles also will provide depth to a young but experienced roster.
That mix of youth, experience and talent has Andrews counting the days until next season begins.
"I'm ready to start again now," he said. "The young kids, they've got to know next year that eight or nine of those kids are going to be playing an awful lot and they've got to come back and be ready to go. Hard work's going to be the key, but I'm anxious for it. I'm looking forward to it."