Music students sparkle at league
Six soloists and five groups from Lansing High School received the top rating Saturday at the Kaw Valley League Music Festival.
Robert Hansen, Maurice Doniphan, Jesse Peters, Kathleen Garner, Katie Adams and Jenna Fausett all received ratings of One on their solos. Also receiving Ones were the concert boys and girls choir, the swing boys and girls and the Swing Choir.
LHS music teacher Jonnie Brice said that despite a lack of experience for many, she was not surprised with the students' success.
"Two groups of freshmen were disappointed that they received Twos, but they did a great job for their first time," Brice said. "It's a lot different at this level."
During the next few weeks, students will work on polishing their performances by going over the comments they received from judges and work with area clinicians.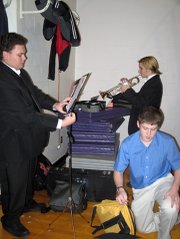 Before the league festival, Dale Shetler, the choir director at Kansas City Kansas Community College, worked with students in preparing for the competition.
Although Brice said that many students were starting from scratch, in his senior year Peters hopes he can improve on the rating of two that he has received at the State Music Festival in each of the previous two years.
Students who receive a One rating will move on to the regional competition on April 9 at Baker University in Baldwin City.