Wrestlers pin hopes on new members
The five professional wrestlers in the Heartland Wrestling Federation recently pooled their money to buy a wrestling ring. Now they've come to Lansing looking for more prospective professional wrestlers to help put it to use.
"We're looking for more talent that could help us put on a longer show this summer," Terry Manker said.
During the first weekend of their tryouts, they didn't have much luck. The Merriam-based federation wanted to stage tryouts Saturday and Sunday at Greenamyre Rentals building on Industrial Avenue, near Gilman Road, but no one showed up. They will conduct two more days of tryouts this weekend for people who would like to join the club for its inaugural season.
The group is slated make its debut performance at Lansing Daze this summer. It sees performing at Lansing Daze as a way to get its name out in the community and to help get the federation off the ground. If Lansing Daze goes well, Heartland Wrestling hopes to put on shows at fairs throughout the summer.
"We have no idea if there is any interest here at all, but it would probably set the town on fire if the most exciting entertainment is a carnival," Manker said.
Manker said he and other wrestlers in the federation classify their hobby not as entertainment but as a unique sport.
"A lot of people see it on TV and think it's fake," Manker said.
The big-time professional wrestling federations like WWE and NWO use elaborate storylines that distract from the sport, Manker said.
"Did that look fake?" Jeff Skalla, whose wrestler name is Pestilence, asks after being body slammed by Aaron Wilson, who goes by Dark Avenger in the ring. "It didn't feel fake, either."
The members all recognize that their group is different than the mainstream wrestling federations. The organizations with TV contracts make a lot more money, Manker said.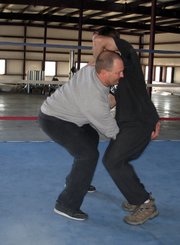 Though the Heartland wrestlers are professionals, no one in the group has quit his day job. Wilson, for example, is a police officer in Lansing.
Amber Freeman, who goes by Samantha in the ring, has been wrestling for three years and works at a bank in Kansas City. Since she is the only girl in the Heartland group, she is limited to the wrestling she can do.
"I don't think we are ready to put on an intergender battle," Manker said.
Heartland does share one goal with the big name federations: entertaining the crowd.
"I love the 'oohs' and 'aahs' and seeing the crowd reaction," Manker said.
Manker, who's wrestling name is Pete Venom, and his brother, Tommy Manker, also known as Edge Crusher, started their professional wrestling career four years ago when the Central Wrestling Association came to town and needed two people to fill a five-minute spot during a show.
"It was more of a joke," Terry Manker said. "We had only done backyard wrestling before."
Terry classifies himself as a wrestling junkie who wanted to start his own federation to avoid politics.
The group began practicing at the Greenamyre Rentals building a few months ago, thus enabling them to practice inside.
"We'd been practicing out in the elements," Terry Manker said.
The season usually coincides with warm weather, beginning in the spring and ending in the fall. The wrestlers practice three days each week for anywhere from two to four hours. Among other things, they work on rope drills, wrestling drills (such as the clothesline) and three types of bumps: the front bump, front handspring bump and the back bump.
Knowing the technique is one way wrestlers prevent injury - a common concern for potential wrestlers.
Members said they though the inconvenient location or the fear of getting hurt kept people away from last weekend's tryouts. They hope that this weekend more people will come out and see what their federation is all about.
"It's not ballet," Tommy Manker said. "You're going to get some bumps and bruises."
Heartland would like at least four or five new members. Experience isn't absolutely necessary, but members do want hopefuls to take wrestling as serious as they do. There is a $10 fee to tryout, but after one season with the federation, the fee is refunded.
Members recommended that people wanting to tryout come prepared by being well-hydrated and equipped with knee and elbow pads. After wrestling the first few times, members warn that it feels like you have been in a major car accident.
Despite the physical ailments, they keep coming back.
"It's a hobby and dream," Terry Manker said. "If you think football is more real, get in the ring."