Students pig out on lessons
Forgive Lilly Dorsey's third-grade class if they seem to be "pigging out" in class this month.
They started March off by celebrating National Pig Day, a kickoff for what will be a "pig month" for those students, Dorsey said.
And why shouldn't they? Their teacher, after all, is affectionately known as the "Pig Lady" for incorporating porkers into her teaching.
Dorsey's students celebrated National Pig Day on March 1 by "pigging out" on pig-related snacks, hitting a pig piñata that oinked when struck and meeting a live piglet.
The baby pot-bellied pig was brought into the classroom by Bret and Susan Rader, rural Leavenworth residents who raise many types of animals on their farm. The Raders told the students about raising pigs and also about the many ways pigs help humans. Students suggested making money and companionship, but other uses the Raders taught them included providing insulin for diabetics, heart valves for transplants and skin to make footballs.
Many of Dorsey's students said they enjoyed the novelty of having a live animal in the classroom, though most agreed that "it stinked," as Kimi Alligood put it.
The tie-in of the piglet visit to Dorsey's curriculum is the book "Charlotte's Web," which the students are now reading.
Dorsey said bringing the pig into the classroom provided a visual learning tool for students to connect with the story, which is about the friendship between a pig and a spider. Most students who haven't grown up on a farm probably had never seen a real piglet before, Dorsey said. But that's not her only motivation.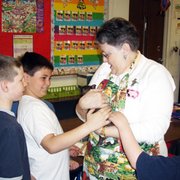 "The real reason is that learning can be fun," she said.
Dorsey draws the pig theme into more subjects than just reading. She said the students had written pig stories and played math games with pigs. She also taught them Pig Latin. Her students are currently participating in the Best-Dressed Pig contest, an art project where they draw pigs in many different forms. Dorsey said she had received pigs drawn as football players, brides and even Elvis Presley. She said the contest was one of her favorite pig activities. The entries are judged by other teachers at the school.
With all the pig-related events she has planned, it's no wonder that Dorsey has earned the nickname of the "Pig Lady."
She said she first brought a pig into her classroom about 16 years ago in connection with the "Charlotte's Web" unit. The next year at enrollment, students who found out they were in her class would say they had the "Pig Lady," she said.
"When they first come into my class, they don't know my name, they just know I'm the 'Pig Lady,'" she said.
Through the years, Dorsey has played up the nickname. Students have brought her stuffed pigs, which are kept in a section of the classroom she calls the pigpen. She has the nickname on her license plate.
She also wears at least one pig article of clothing each day, If her students catch her without one, they get an extra recess. But she makes no mistakes when it comes to her deal.
"I always check the weather first," Dorsey said. "I keep a few extras (of pig-related clothing) in my desk."