'

Bond Fire' stokes supporters of plan
More than 500 supporters bonded Sunday at a "Bond Fire" at the proposed site of the new elementary school for the Lansing school district.
"A lot of people don't know where the property is," Tom Young said of the 27-acre district-owned site at the intersection of East Kay and East Mary streets. "We want everybody to see how much room there is for kids to play because right now, they don't have room to run around."
Young is a member of the Vote for Kids committee, which is supporting the $23.6 million bond issue that district patrons will vote on April 5. The bond issue has two major components: a new elementary school for the district's kindergarten through fifth-grade students and an auditorium to be built at Lansing High School.
Around the Bond Fire, people socialized over hamburgers and hot dogs, bought "Vote for Kids" T-shirts and received signs to put in their yards in support of the bond issue. Fourth- and fifth-grade students were on hand to show off a giant paper chain they constructed as a reminder for people to vote.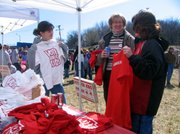 The crowd gathered to listen to bond issue proponents such as Young, Lansing City Council member Don Studnicka and Lansing School board president Shelley Gowdy.
"It was a chance to get to know more about the bond issue," Young said.