Janny Bricker and Russell Baldwin Jr. were married Dec. 18, 2004, at Memorial Chapel at Fort Leavenworth with Chaplin Gary Sanford officiating.
The bride is the daughter of Judy and Paul Bricker, Ogallala, Neb. The groom is the son of Russ and JoAnne Baldwin, Lansing.
Bridesmaids were Kelly Shandera, Misty Donley, Krista Kjelgarrd, Cindi Louderback and Chris Pfaff.
Seth Turner was best man; groomsmen were Tucker Cornwell; Mike Rosenbaum; Eric Sundblom, brother-in-law of the groom; and Jason Bricker, brother of the bride.
Hailey Sundblom, niece of the groom, was flower girl. Ring bearer was Zachary Sundblom, nephew of the groom.
The wedding was set with Christmas lighting and decorations, both at the Memorial Chapel and at the Riverfront Community Center, Leavenworth, where the reception was held. The couple took a honeymoon trip to the Mayan Riviera in Mexico.
The bride received a Bachelor of Science degree in elementary education from the University of Nebraska and master's degree in education from Baker University in Baldwin City. She is a third-grade teacher at Platte County (Mo.) R-III school district.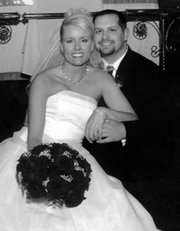 The groom received a Bachelor of Science degree in secondary education from Kansas State University and is completing his Master's of Science degree in sports administration from the University of Kansas. He is an eighth-grade teacher in Platte County R-III school district.
The couple resides in North Kansas City, Mo.