Dual-city showdown
Three teams from Lansing make finals
Lansing Activity Center was abuzz all day Saturday and Sunday with the sounds of sneakers squeaking and basketballs bouncing from the Leavenworth/Lansing Basketball Tournament.
Ten girls' teams and 15 boys' teams battled through bracket play at the annual fifth- and sixth-grade tournament, and by the end of the weekend one squad from each city reigned supreme.
Two Lansing squads met in the boys' final, with the team coached by Rich O'Donnell prevailing, 53-43. In the girls' final, a Leavenworth team coached by Sam Watkins knocked off John Warner's Lansing girls, 31-10.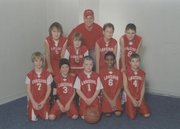 With one champion and two runner-ups, it was an overall strong showing for the Lansing teams. In fact, three of the final four teams in the boys' bracket were from Lansing.
O'Donnell said the championship capped an undefeated season for his squad. Many of those victories were close - three were won by one basket - but he said his players never panicked when games were close down to the wire. Every player on the team stepped up at some point throughout the season.
"They're a pretty tight-knit group," he said. "You could tell that on the floor because the difference between them and some other teams was the fact that they believed in each other."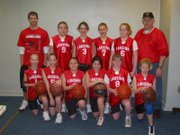 O'Donnell said the constant support of his players' parents and his squad's willingness to learn were the biggest keys to the team's success.
"The biggest thing was parental support, having them there," he said. "All we did at practice was run through fundamentals - dribbling, layups, free-throws, and that stuff all pays off."
Doug Gwartney, coach of the boys' second-place team, said he was proud of his team for making a solid run to the tournament finals. Three of his team's losses this year were to O'Donnell's squad, but Gwartney said his players made steady progress throughout the year.
"I had a really good group of boys and they always came to practice," he said. "They wanted to come to learn. After the game (Sunday), we sat and talked and I asked them if they had fun. They said they enjoyed it quite a bit. Then I asked them if they'd learned anything, and they said they learned a lot."
Warner's girls had their perfect season snapped in the championship game because they simply weren't tall enough to handle Watkins' squad. Still, Warner said the defeat did nothing to dampen the progress his team made throughout the season or the fun it had.
"This was just a good group of kids and a good group of parents to work with," Warner said. "They learned all the basics and were able to apply them, We can't say they were tired or anything like that. They put their best effort forward."