Lansing resident has longtime affiliation with St. Pat's parade
Darlene Kenney helped to bring the annual St. Patrick's Day Parade to Leavenworth 22 years ago to promote Irish heritage in the Leavenworth area.
The event is a family affair for Kenney. Her husband, Michael, who also has helped coordinate the parade since its inception, will carry the traditional Irish flag in the parade.
For the past 17 years, Lansing resident Dona Tiubut, Kenney's sister, has helped the Kenneys to organize and execute the St. Patrick's Day parade. Tiubut has been a jack-of-all-trades. Some years she's helped to coordinate T-shirt sales; other years she's helped with paperwork. This year Tiubut will help to line up floats.
This year's parade kicks off at noon today at Fourth and Choctaw streets in Leavenworth. The parade will follow a path downtown on Fourth, Cherokee, Esplanade, Delaware and Seventh streets and back to Choctaw before ending at Fifth and Choctaw streets.
Archbishop emeritus James Kelleher of the archdiocese of Kansas City, Kan., will be grand marshal of this year's ceremony. Honorary grand marshal will be Commandant Phillip Brennan, an officer with the Irish army who is attending the Command and General Staff College at Fort Leavenworth.
The parade grows each year and participants put more detail into the floats, Darlene Kenney said.
This year, spectators can expect to see more than 100 entries of bands, Scout troops, dignitaries and others from the Leavenworth and Lansing area. Most notably, there will more bands than usual in the ceremony this year, Kenney said.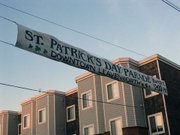 Parade volunteers will sell T-shirts, American flags, Irish flags, hats and necklaces. Proceeds from the sales are going to local charities.
Since 1986, the parade has raised more than $35,000 to donate to St. Vincent Clinic in Leavenworth. Last year, the parade donated $1,000 to the clinic and $250 to Leavenworth Assistance Center.
The committee raises money through parade participants by selling shamrocks for St. Vincent's at local bars and fraternal organizations and through an annual auction of donated goods.
The parade committee has been meeting for the past several months, but the coordinators said they have seen an onslaught of entries in the past few days. The consistency of the core group of six or seven coordinators has made the planning process much easier, Kenney said.
"People on the committee are hard working and dedicated to promoting Irish heritage and raising money for the committee," she said.
Despite all of the stress that goes into planning a parade, Kenney said she finds satisfaction in the annual event.
"It's worth it to see the kids in their green hats at the parade," she said.
Post-parade events include two corned beef and cabbage dinners, one at the Knights of Columbus, Fourth and Delaware streets, and the other at Veterans of Foreign Wars Post 46, 519 Cherokee St.