Former teacher hopes to win seat on board
Rob Nicholas says he thinks he can bring a fresh perspective to Lansing School Board if he is elected for one of the three open seats being contested next month.
Nicholas is not a parent; his interest in the district stems from his four years as the band director at Lansing Middle and Lansing High schools.
Nicholas, who has an undergraduate degree in music education and is currently pursuing a masters degree in instructional design and technology, came to Lansing in 2000 as a full-time substitute for a band teacher who resigned mid-year. He continued in the position until this past May.
He said though he found teaching fulfilling and enjoyable, he couldn't see himself doing it until retirement. He now designs distance courseware at Fort Leavenworth for CUBIC Applications. He is also a member of the U.S. Army Reserve.
Nicholas said his personal philosophy was not that of a politician when it comes to platforms and campaigning for a spot on the board.
"I approach a body like this with an open mind, looking for improvement," he said.
He said the district was on a path of excellence, which he would like to continue. He said that included looking at the best use of technology and keeping the schools' curricula competitive.
"The students that go here are being well-prepared for the next step," he said.
Another trend that Nicholas said he would like to continue was retaining good administrators to run the district and the schools. He said he wanted to empower them to carry out district policies without interference.
"We have qualified and competent administrators who don't need a lot of upper management," he said.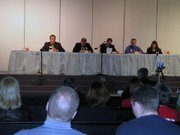 Nicholas' goals for the school board reflect his experience in the district. He was part of a team of music teachers who revamped the district's music curriculum. He also served on a team that helped to increase student achievement in math and problem solving. His experience with district administration came from working both at LHS and LMS, he said, and from being a member of the teacher's interview committee that gave input to the school board in the hiring of Randal Bagby as superintendent.
In addition, Nicholas was a junior and senior class sponsor for two years, a member of the facilities planning committee, a middle school building representative, a vice president of the Lansing Educational Association and a member of the Kansas Music Educators Association and the Kansas Bandmasters Association.