Bond support reiterated at forum
Lansing School Board candidates feel passionately about adequate state funding for schools and their support for the proposed school bond referendum, but they don't agree on which issue is most important in Lansing.
The question arose Tuesday night at a candidate forum at Lansing Middle School. About 50 people attended.
The forum consisted of two rounds of predetermined questions for the candidates and a round of questions from the audience. Dan Gutshall was the moderator and facilitator. Candidates responded to a range of questions concerning the strategic plan of the district, out of district students, the pros and cons of the proposed bond issue and other issues. Many of the candidates spoke about the importance of passing the proposed school bond, but other topics included teacher compensation and the responsibility of the school board.
During one round of questioning, candidates were asked which they would select if they could choose: passage of the school bond issue or passage of a bill in the Kansas Legislature to adequately increase school funding.
Stuart Lyon, Gary Courtney and Beth Stevenson said they would choose the bond issue. Each said that it was a factor under the control of the community, whereas the actions of the Legislature were out of their control.
Lyon said passage of the bond issue was a direct reflection on the Lansing voters.
"If the bond does not pass, it means this community does not support children," Lyon said.
Courtney cited safety as his reason to choose the bond issue. He said it was not acceptable for children - such as his - who attend the elementary and intermediate schools to walk through the high school parking lot to get to and from drop-off points before or after school.
Stevenson said it was important to write to legislators "to let them know we're paying attention," but that it was the responsibility of the community to take control of its own issues.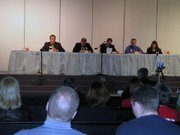 Mike Nielsen and Robert Nicholas disagreed with the others, saying they would choose adequate funding from the Legislature.
Both said that state funding catching up with inflation rates was essential to run the schools.
"If the bond issue fails, we're not going to close up shop and stop teaching," Nielsen said.
Nicholas said an increase in funding could solve problems that the bond issue won't, such as increased teacher salaries.
"If we were to meet the mandates set by the Kansas Supreme Court, it would be too good an opportunity to pass up," he said.
Lansing Education Association and The Current cosponsored the forum.