Dentist vies for school board seat
Though he said he didn't consider himself a political person, Dr. Gary Courtney said he thought he could bring a fresh perspective and new blood to the Lansing School Board. He is running for one of three open seats on the board.
Courtney, who has a dental practice in Leavenworth, said he moved to Lansing in 1992 from Bonner Springs, where he was born and raised. He has two children in the Lansing district, a kindergartner and a fourth-grader.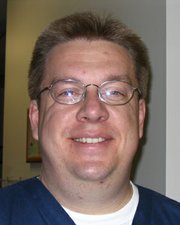 Courtney said he decided to run after several friends had mentioned to him that he would have a good personality for the position. He described himself as easygoing, though he said he's not the type to jump on the bandwagon.
"I'm not just going to say yes to everything," he said. He said his analytical nature prompted him to look for people's motivation behind their actions.
Courtney said he did not approach the board position with a personal agenda, but he noted some issues that he said he would like to address if elected.
He said the issue of education funding in the Legislature was a major one; but closer to home, he said he would like to make the district attractive to future teachers.
He said that passing the bond issue - which he said he strongly supports - was one way to do it; teacher compensation is another, he said.
Courtney said he would like to see the school board create some type of package to make Lansing School District's health insurance plans more competitive with others in the state.
Overall, he said, he wants to contribute to the well-being of Lansing's schools.
"I just want to see the district continue to improve," Courtney said.