Shawnee — While most of their classmates were either relaxing at home or off seeking sunny skies during spring break, six members of the Lansing High golf team took to the links in less than exotic conditions.
The Lions traveled to Shawnee Golf and Country Club on Monday afternoon for the Mill Valley Invitational where they proceeded to be pounded by a steady drizzle and bitter wind. The tournament began 30 minutes early in an effort to avoid some of the foul weather, but it was to no avail. Golfers soon found themselves battling the elements anyway.
The Lions' scores were as chilling as the frigid weather, but that was the norm for the entire tournament field at the soggy season-opener.
"When playing, you've really got to focus on how you handle it in your mind because golf is already a mostly mental sport, and when you throw these conditions in where people get rattled and upset, it's a lot easier to lose your cool," said senior Chris Nelson, a state medalist last year. "You've just got to keep your cool and hope for the best. With the conditions, everyone's got to play them the same, so it's a level playing field."
Nelson said the experience of playing through bad weather would be valuable for the Lions later in the season because it forced them to be tougher mentally.
Mark Scherrer of Olathe Northwest was the tournament champion as he fired an 80. Northwest won the team title with a score of 338. Piper was second with 339 and De Soto was third with 343. Lansing placed sixth with 369.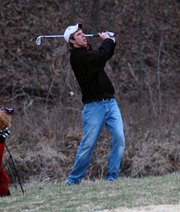 In all, 18 of the 55 golfers in the field shot a 100 or worse. The sloppy weather was a primary cause of those high scores. None of the LHS golfers recorded triple-digit scores, however.
Sophomore Ted Haugland led the Lions with an 18-hole score of 91. Freshman Maria Jackson fired a 92 in her first high school competition. Nelson and sophomore Stefan Froelich both shot 93. Seniors Jeff Hoins and Kyle Hay each fired a 98.
The Lions return to action at 11 a.m. April 2 at the Sunflower Invitational in Bonner Springs. The junior varsity squad will compete in its first meet of the year on March 31 at Sunflower.