Five months until football, but coaches planning ahead
LHS

staff studies new strategies at clinic
Lansing isn't considered a football powerhouse in Kansas - not yet, anyway.
Lansing High football coach Bill Pekarek intends to change that, however.
"We're hoping we can put Lansing on the map as the football capital of Kansas," Pekarek said.
Pekarek and his staff have spent plenty of the off-season looking for ways to help the Lions build on their 8-3 record and district runner-up finish. One of those ways was by playing host to their second annual coaches' clinic Saturday at LHS.
Pekarek and assistant coaches Kyle Deere, Kevin Riemann, Bryan Shelley, Russ Baldwin and Aaron Wecas were joined by about 30 other football coaches from around the area in the LHS commons area as they spent eight hours studying X's and O's with some of the top coaches in the midwest.
This year's featured speakers were Pittsburg State defensive backs coach Lance Cullen, Salina South head coach Ken Stonebraker, Southwestern College head coach Chris Douglas, Northwest Missouri State head coach Mel Tjeerdsma, Topeka Hayden head coach Tom Stringer and Benedictine College head coach Larry Wilcox.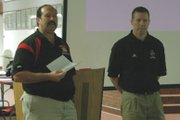 Hayden was this year's Class 4A state champion, Salina South won the Class 5A title and Northwest Missouri State won national titles in 1998 and 1999.
"You just listen to other people and think about how they do some things and think of how you can incorporate those into what you do," Pekarek said. "I go to about four of these per year, and if you can come out of it with a new idea and fit it into what you're doing, that's good."