Board hopeful looks beyond bond issue
For Mike Nielsen, passing the school bond is important, but it's not the only concern of the district.
"Pass or fail, we still have to educate our students," he said.
Nielsen, who served in the U.S. Army for more than 20 years, is the father of two students in the district. Since retiring from the military Jan. 1, he has started a new career as a Realtor. A former logistics and information systems officer, he said the new job had proven an interesting and enjoyable challenge that allows him the flexibility to spend time with his children.
Nielsen said his family had lived in Lansing since 1995, even when he was stationed elsewhere.
"We decided this is where we wanted to raise our family and retire," he said.
Now that he's in Lansing for good, Nielsen has taken on another challenge: running for one of three open seats on Lansing School Board.
Neilson said he had always supported the schools by volunteering through the booster club, but as a military officer, he was forbidden by law to hold elective office. Now that his military obligations are complete, he said he wanted to support the schools in a larger capacity.
Nielsen said he's not unhappy with the current board.
"They've done a great job," he said. "I want to be a part of that and support them."
Some issues Nielsen would like to address as a board member are looking into digital textbooks and keeping teachers' salaries competitive.
Nielsen said he would like to make students' lives easier by looking into the possibility of digital textbooks. Student backpacks are heavy, he said; at a candidate forum March 15, he said his seventh-grade daughter's bag sometimes weighed 20 to 30 pounds. By using textbooks on CD-ROMs that could be loaded on a home computer, students could keep their textbooks in the classroom, he said, though he noted that exceptions would be made for those without home PCs.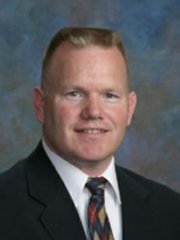 Another issue Nielsen said he would promote on the school board was paying teachers a competitive wage. He said that teachers should be paid enough that they can live in the community where they work. Though he said this might not currently be an issue in Lansing, it is a problem in some suburban Kansas City districts, where teachers earning an average salary cannot afford an average home in the community where they work.
"We would like most teachers to live in Lansing and be part of the community pride and family atmosphere," he said.
In addition, after hearing candidate Beth Stevenson speak about teachers' insurance premiums at the forum, Nielsen said he found the issue interesting and one that the board should address.
Nielsen said all of the issues he supports focused on his main objective: quality education for children in Lansing.
"I think this is a good opportunity to participate to help students maintain a high level of academics," he said.