Dancing the night away

Six years ago, while recovering from a divorce, Nancy Kirby found a new love: dancing.
"I always liked it, but I never took lessons," Kirby said. "I went to swing lessons, and I was hooked."
Since then, she has been taking dancing lessons once a week and usually makes it to singles dances at churches another day each week.
Dancing is a great hobby for both those who are single as well as for those who are married, Kirby said.
"It's an intimate hobby," she said.
For those who are single it's a good way to meet people, Kirby said.
"I want to marry someone I have chemistry with on and off the dance floor," she said.
For those who are married, it can be beneficial to the relationship.
"More people should take it up as marriage therapy," Kirby said.
Classics like "Mack the Knife" or "Mustang Sally" lure Kirby to the dance floor. She said she prefers West Coast Swing's sensual style to the more common East Coast Swing, which she describes as more of a doo-wop.
When she's not dancing, Kirby leads a precept Bible study each week. She likes the precept method because it is more intense than most ways of studying the Bible.
"It is finding truth for yourself through observing, interpreting and applying the message," she said. "It's a more intense form of study that requires about one hour of homework everyday."
Although some people find dancing sinful or wrong, Kirby said that she doesn't find it to be either of these things. Instead, she said it was a fun way to socialize.
"I can't imagine God not wanting us to have fun," Kirby said.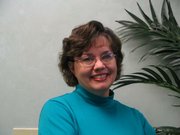 Name: Nancy Kirby
Occupation: Medical transcriptioner for Associates in Family Care
Graduate of: Lexington High School, Lexington, Mo., and Central Missouri State University, Warrensburg, Mo.
Family: Four daughters, Adrienne, Susan, Megan and Kristen; three grandchildren, Chase, Isabel and Quinten
How long have you lived in Lansing and what brought you here? The military - 13 years ago my ex-husband retired here. I am originally from the Kansas City area.
What do you like most about Lansing? It is small enough to know everyone but close enough to Kansas City and everything that is has to offer. I love living here.
What do you do to relax? Exercise - swimming and biking and swing and ballroom dancing.
What would surprise people about you? I am trained to lead precept Bible studies.
What's the best advice you ever received? As a woman, you have to forge your own way. We can make it through life on our own strive.
What organizations or clubs do you belong to? Westside Family Church, Wallula Christian Church and Church of the Open Door. I am very involved in the local dancing community and at Walter's school of Dance.