Students lean on each other to fill void
School counselor leads group that learns to cope while parents are away with military
When Alex Hamlet looks out the window of his second-grade classroom, he sees a ribbon representing his father, Lt. Col. Michael Hamlet, who is working as a G3 planner for the 42nd Infantry Division in Tikrit, Iraq.
"We put a ribbon up so people know our mommy or daddy are fighting for our country," Alex said. "We get to celebrate because my dad is helping our country."
Alex is proud of his father, but it doesn't fill the void of not having him at home - and Alex is not alone. Alex meets weekly with Lansing Elementary School counselor Janie Hodam and three other students who currently have parents who, due to their military duties, are away from home.
Third-grader Allison Meredith's father is a civilian truck driver in Iraq. Second-grader Savannah Batorson's father is stationed in Iraq for the second time. Second-grader Matthew Smith's mother is an Army doctor who is tending to wounded soldiers at a hospital in Arkansas.
To make the adjustment easier, these students meet with Hodam each week. The group started meeting at the beginning of this school year for about 30 minutes every week. Hodam also meets with the students on an individual basis as needed. Hodam organizes eight other groups for LES students dealing with topics such as divorce, grief, behavior management and bonding.
Hodam brings both previous and personal experience in her leadership to the group. In 1991, during the Desert Storm war in Iraq, Hodam led a group for 20 students with family overseas. Since the current war in Iraq began in 2003, Hodam said she's met with about that many students this time around.
This time, she said many of the parents are not just soldiers but also civilians, creating a different group dynamic.
Hodam can empathize with the members in her group because her son-in-law, Sgt. Thomas Kane, is also serving in Al Tagaddum, near Baghdad, in the 36th Infantry Division. He, along with many of the students' parents, is expected to come home for good next February.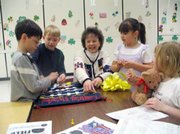 Hodam said one dynamic that makes this set of students unique is the fact that group members come and go at different times; during Desert Storm, she said, the parents all left and returned at the same time.
Hodam does many of the same activities with this group as she has done with previous ones, which include ways to deal with their emotions.
The group works with "First Aid for Feelings," a book designed to help children deal with their emotions about their parents being gone. Group members also work on how to handle their feelings if they are sad. Hodam encourages them to write e-mails or draw pictures to send to their parents.
"It's hard because you don't want them to worry about it at school because you know they are going to think about it at home because it's all around," Hodam said. "But it's important that they know they are not alone, that they all have this in common."
Hodam said these students were friends because of this commonality, which the students can appreciate.
"It's nice to know you aren't alone," Alex said. "I don't like to be alone, I want a team because then I can stop crying."
The opportunity for the students to bond with others going through similar experiences helps, too.
"When you talk to your friends, it gets better," Matthew said. "If you don't, you start feeling sad."
Although the students are proud of their parents and of the ribbons representing them at LES, they are counting down the days to their parents' return. When the students' parents come home from their tours, the group members will gather with their classmates and join their parents to cut the ribbon down.
The group has already celebrated the return of Savanah Reynolds' father, Maj. Storm Reynolds; Jonah DaSilva's father, Army Reserve Maj. Richard DaSilva; and Ben Brickson's father, Maj. Drew Brickson.