Incumbent seeks re-election to mayor's post
Bernard cites on-the-job experience
Kenneth Bernard sits in the mayor's office in Lansing City Hall and looks at home.
And why shouldn't he? He's held the office for 20 years.
So it's not a stretch that when Bernard talks about the differences between him and Ward 4 Council member Harland Russell, the two men squaring off in the April 5 mayor's race, Bernard talks about experience.
"Twenty years as a mayor and also 20 years of being a deputy of a large organization at Fort Leavenworth, I've got a lot of experience with budgeting, a lot of leadership experience," Bernard said.
In those 20 years, he's also built contacts on both the state and federal levels that he can turn to for advice and assistance if need be. He's the president of the Kansas Mayor's Association and an attendee of National League of Cities conferences.
With more than 23 years in city government, he's seen a lot transpire in Lansing. And he said he was proud of the course Lansing was following.
"Currently, I think the staff, the mayor and the council are working with a lot of teamwork, which creates momentum," he said.
The momentum he's talking about is the city's economic development efforts, and Bernard believes Lansing is on the verge of something big after months and years of the city laying the groundwork.
"I think it's fairly well set up now with Towne Center being complete, two industrial parks, the Main Street overlay district, neighborhood revitalization program," he said. "All of those things will be conducive to economic development in the future. I think you're going to see the trend really start to grow in the next two years."
That doesn't mean Bernard is happy about the pace it's taken to get to this point.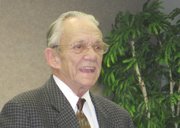 "I'm never satisfied with how economic development is going," he said. "I'd always like to see it move faster. It's a very slow-moving process. I think that everything is now starting to line up to where we will see a lot of businesses starting to come to town."
When he announced he would seek re-election, Bernard cited continuing economic development efforts among his reasons for running. Continuity in city government, he said, is an important factor in economic development.
"You get one direction that you're heading and that direction seems to be working, and if you can maintain continuity within that particular avenue, I think it creates great results," he said.
As Lansing has grown and new housing developments sprout up, Bernard said the City Council had tried to do its best to pay attention older parts of town. He points to the thousands spent on older housing rehabilitation through a community development block grant, the East Eisenhower Road improvements that are about to take place and yearly street improvements among programs aimed at older parts of the city.
"I think the council is very conscious of the older parts of the community," he said, "and we do our best to try to keep them up. I guess, theoretically speaking, you could always do more. But I think we're maintaining a pretty good balance."
He said he was proud of the city's fiscal track record. And he's proud to point out that in recent times the only tax increase in city taxes has been to pay for the wastewater treatment plant expansion.
"I think the community's in good shape," Bernard said. "We have no outstanding indebtedness looking at us that we have to be deeply concerned with; admittedly we have some debt, but then every community does.
"I think that we've been very conservative and have managed our money very carefully."
A retired Army major, Bernard says he looks forward to continuing to come to City Hall and tackling the mayor's duties.
"I do. I'm still energized by it. I guess I enjoy the challenge," he said.
"Having people look at the community, telling me how the city's grown, how nice it looks : those are all things that are very positive to me."