LHS

auditorium would seat 900
Bruce Mortimer said that when he came to visit Lansing, he sensed a desire for a fine arts building for the high school and the community at large.
"Everybody I know, wherever they live, wants culture in their community," he said.
Mortimer is the director of architecture at Wilson and Company, Engineers and Architects, the company that is working with Lansing School District on its proposed addition to Lansing High School.
Mortimer has 35 years of experience in educational architecture, and in that time, he said he has seen fewer high schools nicer than LHS in aesthetics and in building quality.
"It's a jewel," he said.
However, he said that as life and education evolve, the school's needs for facilities have increased.
The proposed addition, which accounts for $4.4 million of the proposed $23.6 million school bond issue, would be connected to the high school. Mortimer said a large commons area would connect the gym and auditorium and would include men's and women's bathrooms for the crowds at either venue.
The plans for the addition include a 900-seat auditorium, a stage large enough for a 150-piece band or sets for plays and an instrumental music room to accommodate 150 people, Mortimer said.
The backstage will include dressing and makeup rooms, storage and toilet facilities.
In addition, he said the budget included money for curtains, lighting, sound, a control room and an orchestra pit. There would be a catwalk system to control overhead lighting "like in a professional auditorium," he said.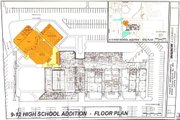 Jonnie Brice, LHS choir teacher, said moving the band to the new addition would allow choir to have the room it currently shares with the band. This would free up storage space and allow for future expansion of classes, she said.
Mortimer said the auditorium might also be available for class use. He said he planned to propose to the district adding tablet arms, or desk surface that folds down, to the front 90 or so seats so that the space could be used for large group instruction.
"We want to use all of our educational spaces as often as possible," he said.
In the same vein, he said that if the bond passes and the new elementary school is built, the auditorium at Lansing Intermediate School would also be available for activities like class presentations.
"It's terrible for a school district auditorium but really neat for large group teaching," he said.
The addition is proposed to be built onto the northwest corner of the high school.