Mayor's protest K-7 freeway plan
Top government leaders in several communities are forging together to oppose a consultant's recommendation to transform Kansas Highway 7 into a freeway.
Bonner Springs Mayor Clausie Smith, Mayor/CEO Carol Marinovich of Wyandotte County-Kansas City, Kan., Edwardsville Mayor Stephanie Eickhoff and Basehor Mayor Joseph Scherer all spoke out this week against the proposal. Shawnee Mayor Jeff Meyers joined the list of leaders concerned with the project, though he stopped short of vocalizing direct opposition to the project following a meeting with Smith Tuesday.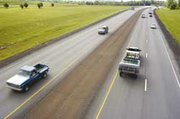 Although the five mayors have concerns that are unique to their individual communities, they all found one common rallying point to base their concern: the effect on economic development. In recent weeks, several of the mayors have discussed the recommendation, which consultants from HNTB Corp. announced in December, with varying degrees of formality. Eickhoff, Marinovich, Scherer and Smith recently decided that although the project will not be realized for 20 to 30 years, if ever, now is the time to speak out.
"Our concern is that it will impact our community and it will be negative in terms of economic development," Marinovich said.
Thus, the three Wyandotte County mayors said they would all sign a formal letter of opposition that Unified Government staff members are drafting and will send to Kansas Secretary of Transportation Deb Miller.
Additionally, Scherer said Basehor city employees are drafting a separate letter to send to Miller. He is hopeful that formal opposition from communities that are home to a "significant" amount of the highway's frontage will have an impact.
"If this is not enough strong participation to get somebody to look at this seriously, then that is very bothersome," he said.
The consultants recommended that K-7 be upgraded to a freeway in its entirety, from Mary Street in Lansing to 223rd Street in Olathe. The group of concerned mayors said they fear that transforming the highway to a freeway would send the thousands of motorists that travel K-7 right through and out of their communities. In turn, economic development would be hampered. Furthermore, those leaders expressed concern over preserving access to existing developed areas along K-7.
"It is a poorly constructed plan," Smith said. "There is already development around K-7. If they were going to do this, 40 years ago would have been the time to do it, not now."
Although K-7 does not pass through Edwardsville, Eickhoff said her concern has to do with the significant amount of people travel off K-7 onto Kansas Highway 32 in Edwardsville.
"If that access is disturbed or people are turned away, it will affect us in a very detrimental way," she said.
Marinovich said there needs to be additional discussion centering around possible alternate plans that would not harm communities along K-7. She suggested adding arterial roads and preserving access to the communities.
Meyers said Shawnee leaders are "not in the state of being opposed to (the recommendation) at this time," but he did list some "serious concerns. He is concerned about the impact of development as well and wants to see a timeline elucidated and rights of way for the project acquired.
"Economic development is a major factor," he said. "It is hard for developers to spend money without knowing exactly what the vision, plan and boundaries are for the different parcels of land in the area."
The acquisition of rights of way would give developers insight into the "boundaries and the game plan."
For now, Meyers proposes creating temporary signalization at the highway's intersections at 47th Street and 75th Streets in Shawnee. He also wants to continue to foster open dialogue between communities affected by the recommendation.
However, the other four mayors plan to be more vocal. Smith said the intersection at Kansas Avenue and access to Canaen Center is the "line in the sand that will not be crossed." Furthermore, Eickhoff is being challenged in her re-election bid and Marinovich and Scherer cannot afford to wait long either; both are leaving office next month.
Thus, the coalition of four mayors plan to moved forward in expressing opposition to the recommendation by hammering the perceived critical economic development issue that they "see eye-to-eye on." The move, they said, was planned to draw attention to their concerns and prevent the issue from falling off the radar.
"We are formally crafting our opposition through the various meetings and I don't think this will take anyone by surprise at all," Marinovich said.