District, architect look inside new school
Before spending $19.2 million of a proposed $23.6 million bond on a new elementary school, Lansing voters may want to know what their money will pay for.
Bruce Mortimer, director of architecture for Wilson and Company, Engineers and Architects, explained many of the amenities he hoped to provide in the new school if the bond issue passes April 5.
Mortimer is one of the contacts from Wilson and Co. who is working with Lansing School District on the plans for the proposed elementary school and high school addition.
Lansing Schools Superintendent Randall Bagby said he wanted a school that would be functional and one in which the community and students could have pride. He said he thought the proposed elementary would improve the quality of life for all of Lansing, from improving educational spaces to addressing traffic issues that affect the area around the current schools.
If the bond passes, the new school is planned to open for the 2007-2008 school year.
Two for the price of one
Mortimer said the main concept of the proposed elementary building was a two-in-one school - early childhood, kindergarten through second grade, and later childhood, third through fifth grades, would be housed in the same building to share resources. This is a concept his company has done in many school districts across the state, he said.
Mortimer said the two-in-one building was an example of how to break large buildings into smaller spaces. He said that usually 450 to 500 students is the preferred size for an elementary school; however, by separating the large building into two schools, each side would be smaller, which makes children feel more secure, he said.
The benefit to having both age groups in one building is that they can share resources, he said, which makes the district more cost-effective. He said the two-in-one building philosophy gave districts larger, better spaces than two separate buildings, and for less money.
This set up was also particularly convenient for Lansing, Mortimer said, because one of the top complaints he heard involved busing and pick-up or drop-off issues. Having K-5 in one building is more convenient for parents who will only have to stop at one school to drop off or pick up their children; the same is true for buses, he said.
Bagby said he saw other benefits from an educator's perspective. With all the students under one roof, he said, there would be certain situations where mixing ages could be beneficial.
He said the new school would give a nod to teaching methods of the past.
"One of the best things to come out of the one-room school house was having different grades collaborate," he said.
He gave an example of pairing a weak fourth-grade reader with a strong first-grade reader - which he said was more of a possibility if the grades were all under one roof.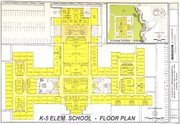 Shared resources
The plan shows that the grades will share administrative offices, the library and media rooms, the gym and the cafeteria, which are all located in the center of the building. However, each of these can be broken down to keep the age groups separated.
Bagby said the central administration would provide safety to the students and staff because all visitors would be channeled into the office before entering the school. The inside doors would remain locked, he said.
The library will be the hub of the school, Mortimer said. It will be enclosed, as opposed to open like the one at the current elementary school. It will include classrooms that can be closed off while teaching to eliminate distractions, he said, and it will also contain computer labs.
The gym will be a large one, Mortimer said, but it will have a curtain partition to separate the space into two areas so that two classes can meet at once. The lower 10 feet of the curtain will be solid to block visual distractions as well as balls or other objects that students are playing with, he said. The top of the curtain will be mesh so it won't impede lighting or ventilation.
In addition, Mortimer said the gym would have a stage on one side that will connect to the music rooms from behind. The gym will seat 600 in bleachers along the wall opposite the stage, he said, and he estimated that with additional seating, it would fit 1,000 guests for programs, plays or assemblies.
The plans also show areas for two art and two music classrooms. Bagby said more classes could go on at once with the additional rooms.
The cafeteria, which is separate from the gym, can be a large space or two separate ones, Mortimer said. He said a partition wall would separate the age groups for crowd control, but both groups would be served by one kitchen through two serving windows. He said a total of 400 students could be served at a time.
Learning communities
The proposed school will have eight sections per grade except kindergarten, which will have three to four sections. The current facilities at Lansing Elementary, Sallie Zoll and Lansing Intermediate hold seven sections per grade.
Bagby said that although he did not expect to fill all the classrooms at first, it would be necessary to build for future growth. And, he said, no inch would be wasted.
"We never have too much space," he said.
In addition, Bagby said, the design of the school had areas that could later be converted into classrooms as the district grows.
The classroom areas will be part of a "house within a house" design, Mortimer said, meaning all the classrooms of each grade will be grouped together. The smaller area would help students and teachers to know one another better, he said.
"It's like having a neighborhood within the town," he said.
Each "house" will have its own restrooms, as well, he said. All classrooms will be self-contained and have a door that opens to a corridor, he added, and each will have a sink to facilitate state-mandated hands-on curricula.
Bagby said he liked to refer to the "houses" as learning communities where all the students in each area would be learning similar lessons, which would facilitate teacher collaboration or team teaching, he said.
He said it was significant that each community had its own set of restrooms because the proximity to the class would cut down on waiting and traveling time, both of which translate to lost learning time.
Mortimer said that it was important to have operable windows in each classroom. He cited studies that show that natural lighting helps people learn. To give each classroom a window, the proposed school is designed with two interior courtyards. Mortimer explained that having the courtyards allowed interior classrooms to have a window, with the added benefit of having an area for outdoor studies. Bagby also noted that having the open areas saved the district some construction costs.
Mortimer said that not all the decisions on the look of the new school have been made. Some choices that would wait until it is known whether the bond passes include color selections, floor coverings, storage and cabinetry and locations of marker boards and tack boards, he said.