The pain and sadness that remain
Basehor family adjusting to life without child
Raindrops fall on the canary yellow house at the corner of Elm and Walnut streets in Basehor like tears from heaven. This modest, split-level home has a warm and inviting appearance, and for good reason. Not long ago, a happy family -- a complete family -- lived here. Yet the thin drops that land sporadically and silently do nothing to wash away the sadness that now inhabits this place.
Because the bedroom at the top of the stairs is still vacant, still closed off to the world, and its occupant far gone, the grief remains, perhaps forever.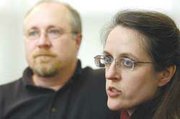 "We haven't even done his laundry," said Marlene Moore, mother of the late Jared Moore, a 19-year-old Fairmount Township volunteer firefighter who died Dec. 29, 2004. "It still smells like him in there."
"You just keep thinking he's going to come back," Jared's father, Patrick Moore said. "Sometimes you just forget he's gone."
Inside the Moore family home, like most other homes in this quiet Basehor subdivision, walls are decorated with photographs of children. The pictures document how Patrick and Marlene raised their three kids and provide a glimpse into where they have come from and of who someday they might become.
Between the living room and dining room, rests a photo of Jared. In the picture's background waves an American flag, and standing before it is the sturdy jawed Jared, smiling as proud and patriotic as GI Joe. His toothy grin flashes wide across the picture. To the casual onlooker, to the stranger who didn't know any better, this snapshot would lead them to believe that the moment of unabashed bliss captured in the photo is one of many more to come for the young man.
What might have been for him, however, will never be known.
At the dark and lonely intersection of 155th Street and Donahoo Road, a place where motorists travel past on their way to anywhere else, the lives of two public servants -- Jared, the firefighter, and Robert Peterman, a Leavenworth County Sheriff's Department deputy-- collided for a fleeting instant. They both traveled to this place attempting to fulfill their duties by lending aid to an injured person. The result was far from what they'd sought.
The result was a tragedy.
Moore, who'd one day hoped to become a full-time firefighter, now rests peacefully surrounded by his kinfolk at the Maple Wood Cemetery in Harrison, Ark. Last week, Peterman, a law enforcement officer with many years of experience, was charged in Leavenworth County District Court with vehicular homicide for his alleged role in Moore's death.
And neither the three months that has passed since Moore was laid to rest, nor the outcome of the deputy's courtroom proceedings, can ever fully heal the sorrow that inflicts the Moore family home. It hovers above, like the sinister dark clouds on this day, unrelenting.
A new day had begun Wednesday, Dec. 29, when firm, steady knocks on the front door of the Moore family home awoke Patrick and Marlene just after 12:30 a.m.
The couple found men in uniform, firefighters and police officers alike, standing on their front porch. At first, the couple thought it might be one of Jared's infamous practical jokes. He was a good kid, Jared was, but like most kids, he derived a devilish pleasure from mischief.
Maybe this was just another one of Jared's high jinks; after all, this was the same kid who once flushed his mother's keys down the toilet, they thought.
Any hope of smiles and laughter coming from this encounter, however, was short-lived. The look on the faces of the men standing on Patrick and Marlene's porch affirmed it.
"I knew something wasn't right," Patrick said. "I was hoping Jared was just pulling a prank or something. When I saw their faces, I knew that wasn't the case."
The terrible news delivered to the Moores that night would begin a horrifying chapter in their lives, one which continues today.
The day before had been a pleasant one -- Jared spent much of the afternoon filling out an application for a full-time firefighter job, and made soup for his mother who wasn't feeling well -- but for the Moores', remembering that day serves only as a precursor to the painful one that followed it.
"We went out to eat, which we usually didn't do," Patrick said. "We got to spend the whole day with him, which was also rare."
Jared's pager went off, signaling him away from home, away from his family and ending this good day, just after midnight. Before he rushed out of the home, Marlene said she felt a sinking feeling in her stomach.
"I just had this uneasy feeling that something was going to go bad if he went out," she said. "We both did."
Many details, outside of a brief accident summary, surrounding the Moore-Peterman collision have not been made public.
What is so far a matter of public record: Jared and Peterman were both heading north on 155th Street en route to the scene of a rollover accident. As Jared attempted to turn left onto Donahoo Road, his vehicle was struck from behind by Peterman's sheriff's department cruiser.
The Kansas Highway Patrol conducted a reconstruction of the accident scene, but findings from the investigation have not been released. After reviewing the highway patrol report, the Leavenworth County District Attorney's Office charged Peterman for his alleged role in the crash.
Vehicular homicide is a misdemeanor charge and if convicted, Peterman would most likely receive either a year of jail time or a year of probation. Peterman is currently on unpaid, administrative leave from the sheriff's department.
Last week, Peterman's attorney, Kiann McBratney of Kansas City, Kan., entered a not guilty plea on behalf of her client. After a brief delay to find an out-of-town judge to preside over the case -- Atchison County District Judge Martin Asher was selected -- the case against Peterman is expected to resume with pre-trial motions and hearings in coming weeks.
While many of the details surrounding the accident will not be revealed until the case is argued in court, Patrick and Marlene Moore hold a fierce and steadfast belief that the bone-naked truth is their son was victimized by recklessness and negligence.
One look at the crash scene told them of the violence of their son's death.
At the crash scene, Jared's 1994 Dodge Shadow -- he used the car that night because his work truck had a flat tire -- was destroyed. The collision crushed the car like someone stomping on a tin can.
Patrick said the back end was crumpled into the front of the vehicle. Jared, who his parents say made a habit of fastening the seatbelt, didn't do so this night. It probably wouldn't have mattered, Patrick said.
The Moores were in court last week when Peterman made his first appearance. They say they'll be there when he returns.
"There was a little bit of relief because we thought we were going to have to make an argument to get something done," Patrick said.
It rankles that no one from the sheriff's department has ever come to them to offer any apology.
"If someone would have come over to the house and just said that," Patrick said, "this whole thing probably would have went away."
Reminders. For the Moore family, memories of Jared engulf and suffocate them in the obvious places, and some in places less so, like an angry swarm of bees when a stranger unwittingly stumbles across a hive.
There's the fire station less than a mile away from their home. All too clearly does the Moore family hear the pitch and wail the station produces when an emergency call beckons the volunteers away to the next car accident or house fire.
There's friends and family, who only mean well by asking of the family's condition, but unintentionally stir up emotions when the conversation steers toward their fallen son, a hero.
Most of the time, Patrick and Marlene will nod and smile at the remarks. They know what people say about their son is true -- that, indeed, he was a fine boy and an honest soul who loved to help people who couldn't help themselves -- but the couple hurts a little more, and the sting runs a tad deeper, each time when reminded of it.
But, those are also the times when the couple expects those emotions to come creeping back to the surface. In those instances, pieces of them don't mind talking about Jared -- although he's no longer here, he is far from forgotten.
It's other times, during day-to-day life, whether it be during a trip to the grocery store or while watching a football game on television, that produce the more heart-wrenching moments.
While walking through the grocery store, one may absentmindedly place an item in the shopping cart only to "realize Jared was the only reason you (ever) bought it," Patrick said. Or, as happened once before, you holler upstairs, holler for Jared, to come down and check out what's happening with the football game only to be answered by a deep and unforgiving silence, his father added.
Those moments are crushing, like a terrible nightmare the parents can't escape, and can test the resolve of even the most stoic of people. In the short time span between acting from instinct, in which the couple feels the life of their son again, and remembering reality, when the pain comes flooding back, it's as if Jared had been born and died all over again.
They remember his smile, his humor, his good nature and charm. They remember his loyalty to the Lord, family and other people.
Then they remember the accident. Then they remember the circumstances that took Jared away.
Then they remember there's an empty room upstairs.
It's every parent's fear to bury their child, the Moores said, and for a simple reason -- the thought of living without them is too unfathomable to bear. Life without Jared has indeed been difficult, the couple said.
"We don't sleep unless we take something," Patrick said. He added, "You just keep seeing the wreck over and over in your head."
The couple had been visiting a grief counselor for a spell after the accident. For a time, things got better, but not that much. The feelings still linger, and maybe they always will, but just in case, Marlene said she's looking into making new appointments.
On Saturday, Jared's brother, Rick, is to be married. It will be a bittersweet occasion for the Moore family. As happy as they are for Rick, the couple can't help but remember that Jared was to stand beside his brother, undoubtedly proud and smiling as ever, as his best man.
It's nice sometimes to think about what might have been, the parents said, but those pleasant times are wiped away by the situation that is.
That's life today. Happiness doesn't come in droves anymore, they said, and when it does, it's only for fleeting, passing snippets of time. Inevitably, thoughts always drift back to that cool, crisp December night at the intersection north of Basehor, where their lives were forever altered.
Today, tributes to Jared are scattered at the corner of the intersection.
They were placed there in the days following his death, reminders to all that passed that here a hero fell, but in the time since have become unkempt. A withered, white wooden cross stands facing 155th Street. Pots of flowers, their vibrant colors long since faded, lie lifeless and eroded. The holders of candles lighted at a vigil for Jared are filled with water, their lights long since extinguished.
The Moore family doesn't like to remember this place. They much rather prefer his resting place in Harrison. There, Jared lies next to his grandmother, Doris Moore.
His plot sits on the top of a hill, which overlooks a valley. "In the fall, it's very gorgeous," Patrick said. The Maple trees surrounding the cemetery bloom yellow, burnt orange and bright red -- a fireman's colors.
It's also here that the family can remember that Jared was a son before he was a firefighter, that he had a brother and sister before he had comrades, that he lived a full life in his short 19 years.
"He liked it here," Marlene said. "We wanted him back home so we could go by and visit."
The Moores say one day they will return to their native Harrison. They have designs on moving there someday but for now, their place is here so they can be around to see through the court proceedings.
"We're afraid nothing would be done," Patrick said, "unless we were here."
They've been cautioned that it's best not to make big decisions until adequate time has passed, separating themselves from the accident.
Give yourself at least a year, a friend who'd lost a child of his own told Patrick. Give yourselves time to heal, he advised
One day, the couple hopes this all will be over and they can return home knowing they did what they could for Jared.
Only then, away from the reminders, the court hearings and the nightmares, and at home near their son looking down on them from the top of the hill, can this family torn apart by tragedy be reunited.