Middle schoolers meet reading challenge
Ten Lansing Middle School students read their way to meeting an Olympic Gold medalist and watching a Big 12 Women's tournament game.
These students met the challenge of the Women's Intersport Network for Kansas City Rewards for Reading program by reading 12 books. WIN for KC is an organization that promotes the lifetime values of sports and fitness for girls and women. The contest was open to both boys and girls.
Colby Gwartney said he read books that he liked, mostly sports books, to meet the challenge.
For completing the reading challenge, the students had the opportunity to attend the celebrity reading session where WNBA player Swin Cash of the Detroit Shock read to them at Bartle Hall at a gathering of students from around the area who had also met the challenge. Cash was also a member of the 2004 United States gold medal-winning women's basketball team.
"We got to see her gold medal," Emma Moreland said.
Cash read the book "Ali's Dream," a story about a young girl who wanted to play basketball.
Later that afternoon, students attended the afternoon session of the Big 12 Women's basketball tournament. They watched the University of Missouri defeat the University of Kansas. Students also received a certificate for their participation, a book and a coupon to Sonic.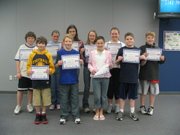 Both Colby and Emma agreed that the highlight of their reward was getting to meet Cash.
Even though the contest is over, they both said they plan on keeping up their habit of reading. Colby is reading books in the "Unfortunate Events" series by Lemony Snicket, and Emma is currently reading "The Divide" by Elizabeth Kay.
Tsunami victims also will reap benefits of Lansing Middle School students' reading. Kelly Riemann's sixth-grade students recently donated 25 books to schools affected by the tsunami through the Scholastic Book Club program Classrooms Care. The book club donates one book for every book that a student in the class ordered by the end of March.