Duo uses combined talent for cartoon
Meet the characters behind The Current's new cartoon "Down 'n Out."
One day last summer, Dick Cameron gave Cathy Corley some of the cartoon characters he had drawn so she could put words to their images in hopes of creating a comic strip.
"I took what he had given me and ran with it," Corley said.
Cameron and Corley have gone to the same church for 15 years. Cameron appreciated Corley's sense of humor, and Corley finds the words that bring the characters that Cameron draws to life.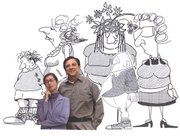 "I had Andrew (Cameron's son) in Sunday School class, so he knew from that that I was slightly askew," Corley said.
Corley's wit came through in her writing for the church bulletin, Cameron said.
"I always knew Cathy was clever," Cameron said.
Corley has also written many of the skits for children of the church.
Cameron has been featured in newspapers as a cartoonist since he was a student at Kansas State University. He won a cartooning contest for the Kansas City Star and has been featured in the Army Times. He drew his first character when he was in first grade, he said.
"It's a good creative outlet," Cameron said.
Corley and Cameron usually correlate their ideas through e-mail or on the phone.
They said they usually try to bounce ideas concerning popular culture or current events off one another.
"As I get inspirations, I drop it by or describe it to Dick," Corley said.
Cameron already has compiled a book of characters, which has given Corley plenty of ideas.
"We just need to tweak what he has already drawn and that will give us enough material for a while," Corley said.
Name: Dick Cameron
Address: 605 Cottonwood Drive
Occupation: Insurance sales
Graduate of: Atchison High School, 1970; Kansas State University, 1974
Family: Wife, Tera; Son, Andrew, junior at Lansing High School
How long have you lived in Lansing and what brought you here? I have lived in Lansing since June of 1984. I came here to start a State Farm Insurance Agency.
What do you like most about Lansing? The schools, the people, the business climate, proximity of living near Kansas City, the "small town" atmosphere
What do you do to relax? Cartoon and sometimes watercoloring; enjoy outside activities: camping, hiking, etc. Loved snow skiing until I broke my leg. Enjoy KSU football (season ticket holder) and KU basketball.
What would surprise people about you? I had a short-lived rock-and-roll band called "Knights of Old"
What is the best advice you ever received? Work like you own the place.
What organizations do you belong to? Lansing Kiwanis Club, past president; vice president of the Lansing Educational Foundation; treasurer of the Lansing High School Booster club; treasurer of the Presbyterian Church board of deacons; Northeast Kansas Association of Insurance and Financial Advisors, past president; co-chair of Capital Campaign fund for youth of Presbyterian Church; and second vice president of the Leavenworth-Lansing Chamber of Commerce
¢¢¢
Name: Cathy Corley
Address: 660 Evergreen, Leavenworth
Occupation: Analyst for the United States Army
Graduate of: William Chrisman, Independence, Mo., and Missouri Valley College, Marshall, Mo.
What do you like most about Lansing? The Mexican restaurant, La Mesa; the dollar store, Dollar General; nice people in the community and church friends
What do you do to relax? Sleep and clean out my closet
What would surprise people about you? I was voted the funniest female in my high school.
What is the best advice you ever received? Most people aren't trying to be evil, they are just stupid.
What organizations do you belong to? TRAC bowling team, fund-raising committee at church