Lauren Elkins sat on the end of the bench and stared out at the Lansing High soccer field 15 minutes after the Lions' 3-2 victory over Mill Valley in their season-opener Tuesday night.
Elkins, a freshman goalie, had just played her first varsity game. It was a nail-biter, so her nerves still were settling down.
Senior Kendra Sickinger walked over, motioned for Elkins to stand up and gave her a hug.
"You've got those first-game jitters out of the way," Sickinger said as Elkins nodded in agreement.
There were plenty of jitters to go around Tuesday, and none experienced them more than Elkins, whose save with 38 seconds left snuffed out a Mill Valley breakaway and iced the victory.
"I told her the best thing a goalie needs to do is talk to her defense, and that's exactly what she did," Sickinger said of Elkins. "I actually heard her from forward talking to her defense. I was proud of her."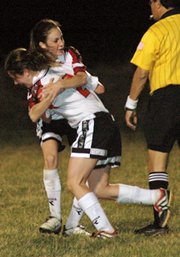 Sickinger said she was proud of her teammates for the effort and heart they showed throughout the game.
"I was really impressed with how our team did not let down," she said. "We wanted to get it done."
The Lions got it done, but it wasn't easy against the first-year program Jaguars who were no ordinary first-year squad. The Jags were quick, smart and highly skilled, and they gave LHS as tough of a first-game test as the Lions could handle.
LHS showed some rust after returning from spring break, but the Lions' offensive strategy clearly was effective from the opening minutes. They applied heavy offensive pressure from the game's first kick as forwards Bianca Manago, Jessica Hauver and Sickinger kept pressure on the Mill Valley goal by peppering it with shots. Hauver nearly connected for a goal off a header just five minutes into the game. Sickinger finally put Lansing on the board in the 34th minute when she corralled a pass from Kristen Huffman, wheeled and fired a bending ball that sailed into the far corner of the net for a 1-0 lead.
"They're going to get a lot of confidence in that they know our style of attacking works," said LHS coach Rob Elkins, Lauren's dad. "You saw the number of shots. We had a lot of shots on goal. We're just three or four steps behind from it being a blowout."
Mill Valley capitalized on a defensive breakdown and tied the game 29 seconds later, but Lansing never wavered. The Lions continued to fire away in the second half and finally found the net again in the 69th minute when Manago's shot from 18 yards out bounced past the Jaguars' goalie for a 2-1 lead. Another defensive lapse led to another Jaguar goal five minutes later.
"There were a couple miscues on the goals that they scored," Rob Elkins said, noting that those mistakes can be corrected.
Lansing responded with the game-winner in the 76th minute when freshman Rachel Pride slipped a shot inside the near post. Elkins' late save preserved the win.
Lansing next plays at 5:30 p.m. today at Harmon High School in Kansas City, Kan. The junior varsity plays at 4 p.m.