Slammers collect eight medals
Topeka — The Slammer Wrestling Club was shaken but not deterred after Friday's early rounds of folkstyle wrestling at the USA Kansas Kids State Tournament.
The Slammers cruised through their first-round matches but took some lumps in the second and third rounds. That meant most of the squad would have to make a long climb through the consolation bracket Saturday if it was going to bring home a large medal haul.
No sweat.
Much to the pleasure of coaches Aaron Yoakam and Mike Flynn, the Slammers battled tough through match after match of the consolation bracket. Their final tally: a club-record eight state medals.
"We had a very good day today - a very good day," Flynn said. "Today we just hammered back, and we medaled eight. It was fantastic.
"We've brought more kids to the state tournament and we've medaled four or five, but this is the most we've ever medaled, and we medaled high. This was a very good showing."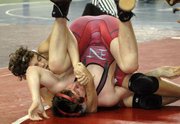 Four Slammers collected third-place medals, while another placed fourth, one placed fifth and two placed sixth.
Lansing High junior Sean Flynn earned his third state medal and highest finish ever when he placed third at 140 pounds in the 16-and-under division. Flynn was solid and steady throughout the tournament as he posted a 4-1 record. His best performance was in the third-place match, however. He put together a technically sound match and hung on for a 2-1 victory.
"He wrestled very smart," Mike Flynn, who is Sean's dad as well as his coach, said. "He was wrestling a fantastic wrestler, but Sean had a good head about him."
A bout with the flu kept Bo Pursel from defending his state title from last year, but he still was healthy enough to finish third at 70 pounds in the 10-and-under division. Rowdy Andrews cruised to a third-place finish at 82 pounds in the same division, and Brad Terron picked up a third-place medal at 175 pounds in the 14-and-under bracket.
Elijah Hill picked up two of his three victories by pin as he placed fourth at 46 pounds in the eight-and-under division. Eric Wessel battled back from a first-round loss and fought his way through the consolation bracket for a fifth-place finish at 145 pounds in the 16-and-under division.
Two other Slammers, William Jacobson (49 pounds, eight-and-under) and Geno DeGraw (120 pounds, 10-and-under), placed sixth at state.
"William's losses were 5-3 and 7-6, so they were very, very close matches. He was really impressive," Flynn said. "William's only eight years old, and Elijah's seven, so they've got many more years of wrestling ahead of them."
The Slammers' medal collection might have been larger if not for two medical defaults. LHS junior Logan Ryan pulled out after sustaining an apparent collarbone injury in his first match. LHS freshman Nick Flynn - a two-time state medalist for the Slammers - was forced to withdraw Saturday morning after injuring his shin during warm-ups.
The folkstyle season may be over, but that doesn't mean the Slammers are taking a break. The freestyle season began Tuesday. Also, Sean Flynn, LHS sophomore Kyle Grape and Leavenworth's Aaron Ely will head to the Brute Adidas Folkstyle Nationals on Saturday and Sunday in Lincoln, Neb. Pursel and Dennis Wood of Pleasant Ridge will head to the USA Wrestling Cadet and Schoolboy Nationals in Iowa City.
"There's no rest for the weary," Mike Flynn said. "There's a saying that summertime wrestlers make wintertime champions, and it's so true."