De Soto selects
LHS

grad as Teacher of the Year
De Soto — Jack Bush has a few speculations about why his reading teacher, 1993 Lansing High School graduate Tana Priddy, might deserve an award.
"I've had her for, like, three years, and she's real nice," he said. "She helps me with hard words."
Jack, a third-grader at Starside Elementary School in De Soto, said he always looked forward to his reading class because of Priddy, a reading specialist at the school.
Earlier this month, Priddy captured others' accolades, too, when she was chosen as De Soto USD 232's elementary representative for the 2005-2006 Kansas Teacher of the Year competition.
Priddy is in her fourth year as a reading specialist in the De Soto district. Prior to receiving her master's degree, she had spent four years teaching second grade in the Atchison and Blue Valley districts.
She is the daughter of Sharon and Brad Peterson of Lansing and attended LHS in her junior and senior years.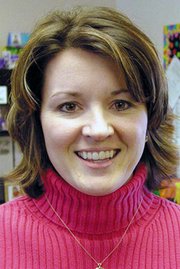 Though Priddy said she had known at an early age she wanted to be a teacher, she said some of her instructors at LHS "helped me know for sure that teaching would be my calling."
She said Helen Schwinn, a science teacher and volleyball assistant coach, was a mentor who went "above and beyond to know me on a student level and as a person as well." The method is one Priddy uses today in her teaching.
Priddy is like a swinging door between reading theory and struggling students.
As a professional, she's at ease discussing complicated educational strategies. But Priddy translates theory into tricks that students of all levels can understand, enabling them to apply what they learn to conquer those "hard words."
Practice - Jack calls it "brain exercise" - stems from two focus areas: guided reading and reciprocal teaching, Priddy said.
Priddy described the guided reading as strategy work with "leveled text."
Students read books with difficulty levels matching their ability levels. If students stumble, Priddy walks them through strategies that help decode even the trickiest words.
Reciprocal teaching broadens the lesson.
"That's when we're focusing on comprehension skills," Priddy said.
This step is where students clarify, question and summarize what they've read, she said.
Priddy's process is personal - she typically works with a group of just four students.
Priddy said that when teaching, she tries to take into account all facets of each student. She uses that information to pique students' interests and apply reading to their lives.
A bicycle-lover, for example, will be more likely to stay focused - and pick up on strategies - if he can apply reading lessons to one of his favorite things.
"I think it's important to see the whole child," Priddy said. "The child at school, the child at a different subject, the child at home."
Her constant focus on students makes Priddy a standout teacher, said Tim Smith, Starside's associate principal.
"The thing that I think Tana does that she does the best is that when she makes a decision, her decisions are always based on 'What will the impact be on my student?' Smith said.
Smith said Priddy, who has been teaching at Starside since 2001, applied that priority to everything from assessments to daily lesson plans.
"That's definitely what puts her at the top of the list," Smith said.
Priddy now advances to the regional level in the Kansas Teacher of the Year program. The De Soto district has had teachers represented in the Kansas Teacher of the Year program as semifinalists and finalists for six years running. The 2004 Kansas Teacher of the Year, Keil Hileman, teaches at the district's Monticello Trails Middle School.
- Current editor John Taylor contributed to this story.