Police crack down on speeding in alleys
Drivers in the city should take heed: Lansing Police are stepping up enforcement of speeding laws in and around the city's alleys.
Residents attending a Thursday City Council study session on alley improvements complained to council members of speeders roaring through the alleys, putting nearby children and other pedestrians at peril.
The discussion on speeding came about after Public Works director John Young mentioned asphalt paving as one possible solution to the poor conditions of city alleys, which predominantly are in the older area of the city, east of Main Street and north of east Mary Street.
Missy Simpson, 217 E. Lois St., told council members she feared paving the alley behind her house would exacerbate an already-dangerous situation.
"Children play around that area. There are people who speed up the alley where we live now. It is ridiculous," she said.
Simpson's neighbors agreed with her.
"I'm sure everyone in our neighborhood has children, and it's just ridiculous," Katherine Hibbs, 203 E. Lois St., said of speeding cars. "Our kids can't even cross the street. People are speeding like maniacs up and down the street."
Dan East, 221 E. Lois St., said despite the speeding problem, he still favored paved alleys.
"I think speed's just a problem throughout Lansing, and I'd like to see the police department pulling people over and working on it," he said. "You're going to have that problem on the street, in the alley, no matter what. People just drive too fast all over."
During the discussion, Mayor Kenneth Bernard told the audience the speeding problem would be addressed with increased police patrols. But he warned the last time the Police Department targeted a neighborhood after a resident's complaint of speeders, it was neighbors who were ticketed.
"When the cops went out, all but one ticket was for people who lived in the neighborhood," Bernard said "I'm just giving you fair warning."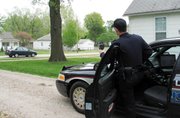 Friday afternoon, a Lansing patrol officer was running radar in the alley between East Kay and East Lois streets. The officer ticketed one driver for speeding in the alley on that first afternoon of patrolling in the area, Police Chief Steve Wayman said. The speed limit in alleys is 20 mph.
Patrols in and around the alleys will continue, Wayman said.
"I've sent them over there and I told them to hit it and hit it hard," he said Wednesday.
As discussion of the alleys continued, Young made it clear there are many challenges facing the city on alley improvements and alley maintenance. Among them: poor drainage, alleys located on private property instead of where they originally were platted, utility relocation, alley beds being too high or too low and cost.
He estimated it would cost $5,500 to pave a 10-foot wide, 300-foot long length of alley at a thickness of four inches.
Alternatives to paving included using asphalt milled off other streets to fill alley beds or to simply grade alleys and apply chemicals to reduce dust.
Council member Dave Trinkle Jr., whose Ward 1 is the only part of the city with alleys, said he thought different alleys would require different solutions. But he said the city needed to start somewhere with some program.
"I think what we're looking at is getting something in place, and each alley is going to have to be addressed differently," he said. "That's the problem. That's been the problem for years.
"But we need to get something on the alleys, get them taken care of now, and get these people so we can get them in and out of their homes. Then, we need to try to get something in the budget where we can look at these and take them on a case-by-case basis. But we've got to get something in place before then. : We could sit here all night and talk about what we're going to do. But we're going to have to agree on what we want to do, and either we're going to get this done or we're not."
In the end, Bernard directed Young and the city engineer to evaluate the alleys, come up with a total cost and develop a priority list. Council members, he said, would discuss an alley program when the 2006 budget talks get under way this summer.
Also at Thursday's study session, council members heard a presentation by representatives of The Current on making it the city's official newspaper. No action was taken on the matter.