Senior's clips go toward cause
Photo Gallery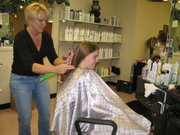 Locks of Love
Lansing High School senior Maggie Aus made a recent trip to the Designing Women hair salon in Leavenworth. She emerged with a new look, 10 inches of hair cut off the back, and a gift destined for the Locks of Love organization.
Maggie Aus wanted to change her look and help a charitable cause.
Tracy Lozenski accommodated both wishes.
With Maggie, a Lansing High School senior, looking straight ahead, Lozenski, Maggie's longtime hair stylist, used a pair of scissors to snip through the top of Maggie's ponytail.
The shock of hair that used to hang to the middle of Maggie's back now is on its way to Locks of Love, a nonprofit organization that provides hairpieces to financially disadvantaged children under the age of 18 with medical hair loss.
"I've always kinda wanted to do it," Maggie said of donating hair to Locks of Love, just before getting her haircut Friday at Designing Women Hair Salon in Leavenworth. "I just had never done it."
It took all of about a half a minute for the transformation, which left Aus' hair hanging about shoulder-length.
Lozenski, after shearing off the ponytail, handed it to Maggie.
"Wow, look how thick it is," Maggie told her mom, Chris Aus.
"That'll be a lot of hair for a lot of kids," Chris Aus said. "Somebody at school today told her her hair was going to look really good on somebody else."
Turning 18 years old and with high school graduation on the horizon, Maggie decided the time was right to do something. She said she hadn't had her hair "boy short" since about the sixth grade.
"I wanted it because I wanted a change," Maggie said. "I was ready to cut it."