LPD

detective deals with reality in '

CSI

' world
Scott Crawford admits he's a fan of "CSI."
Crawford, though, watches the show with a different perspective than most of the millions of fans who tune in weekly to see the crime scene investigators solve case after case.
A detective on the Lansing Police Department, Crawford appreciates the attention to detail characters use on "CSI" in their television investigations. He gets a kick out of the laboratory tests that churn out DNA matches, spit out compounds that can help identify a sliver of evidence and the other high-technology gadgetry at the disposal of the TV characters.
But he also knows the difference between entertainment and reality. There are few, if any, real live criminal cases where all of the loose ends are tied up in a nice, clean package within an hour.
"It never comes as easy as you see it on TV," Crawford said.
Crawford doesn't have the luxury of having such gadgetry available to him.
"A lot of that technology that you see on CSI, that exists," Crawford said in an interview in the patrol room at the Police Department. "The reality is smaller agencies don't have access to a lot of that equipment because of cost issues."
But like the fictionalized members of the Las Vegas Crime Scene Investigators, Crawford is happy that he works as part of an efficient and caring team in solving crimes.
"The department as a whole works good together as far as solving cases," Crawford said.
It's an important factor, Crawford said, because he's the only detective on the force.
"I can't do everything by myself. I rely on the officers that are on patrol and answer the calls, my lieutenant, the chief. Everybody in the department may have a piece of the puzzle when it comes to even the smallest crimes."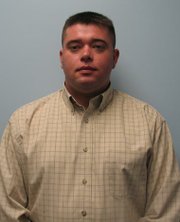 Lansing, Crawford says, is relatively free of big crimes.
"It's as safe a community as you're going to find, given its proximity to the Kansas City metropolitan area," he said. "By and large, a lot of the crime that happens is the smaller misdemeanor stuff, like the criminal damage to property, juveniles running around with paintball guns, gas drive-offs. Every now and again, we get a larger crime that obviously is unexpected."
He points to a Dec. 21, 2004, incident at Wood Oil Co., 109 4-H Road, in which the gasoline station was robbed and a clerk raped, as one of the bigger crimes that's happened since he became a detective about a year ago.
Crawford and then-Lt. Ben Ontiveros worked nearly two days straight to identify a suspect. Then-Sgt. Tony Waterman made the arrest.
But the lack of high-profile cases doesn't mean Crawford has little work to do. In fact, he said he couldn't recall there ever being a dull moment on the job since being promoted to detective.
It's one of the factors that drew him to police work.
"It's a very enjoyable career. You never know what you're going to be doing from one day to the next," Crawford said. "Sometimes you don't know what you're doing from one hour to the next. It just depends on what calls for service you get. Even in the detective position, you still don't know. You have cases to follow up on, new cases, it seems, all throughout the day."
Chief Steve Wayman sings the praises of his detective.
"He's got really good attention to detail and he's really sharp," Wayman said of Crawford. "He just has the mind for it."
Crawford said one detail he continues to see in his work is a growing trend of white-collar crime. It's to the point, he said, that about 50 percent of his cases involve some sort of white-collar crime, whether it be identity theft, embezzlement, fraud, forgery or the like.
"You don't hear about white-collar crimes nearly as much as you hear about theft and murder, but there's just as much or more white-collar crimes as there are other crimes," he said.
One white-collar case took him four months to solve. Credit card numbers had been stolen from a person and then used to purchase merchandise via the Internet. Crawford cobbled together enough evidence over the four-month period that an arrest was made. The case ended, he said, when the suspect and the County Attorney's Office entered into a plea agreement.
It wasn't a murder case, as often occurs on "CSI," and millions weren't watching. But to Crawford, it was as satisfying as any TV cliffhanger.