Dinner honors firefighters, 'gals'
A dinner honoring Leavenworth County Fire District No. 1 firefighters also paid homage to key supporters of the mostly volunteer force: their significant others.
Firefighters and their partners were recognized Saturday at a Partners Appreciation Dinner at La Mesa Mexican Restaurant, 710 N. Main St.
The department and Lansing Kiwanis Club recognized firefighters for their service to the community and the wives and girlfriends of its 27 members for their support to the department's members.
"We could not do this without our ladies, gals who give up their evenings and give up their nights off," Fire Chief Rick Huhn said. "We're going out to dinner, and all of the sudden we're gone and you're sitting there with a dress on and nothing to do."
Mark Alligood received the Fireman of the Year award. A Lansing resident, Alligood has served as fulltime firefighter for one year with the department. Ed Davis, a volunteer officer, was given in absentia the Officer of the Year award. Davis lives in Lansing and is streets foreman for the city of Leavenworth.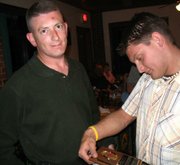 "It feels good to be recognized," Alligood said. "I wasn't expecting this."
Alligood and Davis each received a plaque, a certificate and gift certificates from local businesses.
Davis later said, "I really feel good to be able to perform the duties of firefighter for Fire District 1. Every time the tone goes off, it is my job to be there because I love what I do as a firefighter."
Top Service awards were given to the following firefighters for service to the community: Tim Mondero, 25 years; Keith Kohler, 15 years; Raymond Walters, 15 years; Jim Dyson, five years; and Alligood, Mike Bean, Dave Ausmus and Justin and Nick Ontiveros, 1 year.
John Wendel, Lansing Kiwanis Club president, said before the dinner that the club wanted to "to recognize these people for doing the things you and I don't want to do."
Huhn thanked the Ladies' Auxiliary Fire Department for raising money to buy a computer printer for the firehouse this year and a digital camera a year ago. Each woman attending received a printed prayer for firemen's spouses and a keychain with a pendant emblazoned with an image of St. Florian, patron saint of firefighters.